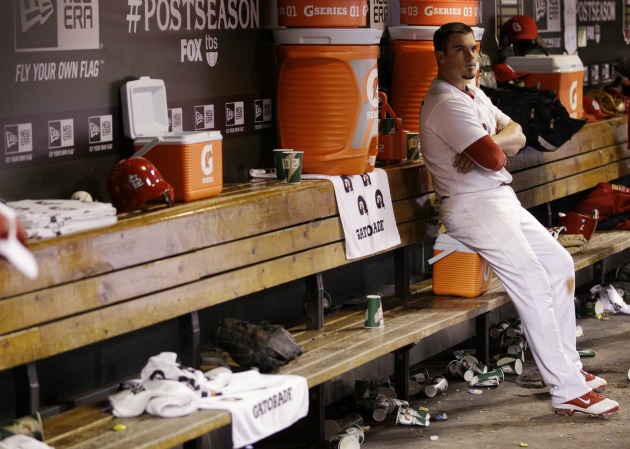 By C. Trent Rosecrans
Brewers at Cardinals, 8:05 p.m. ET, Busch Stadium, St. Louis. Series tied, 2-2.
ST. LOUIS -- With Thursday's Brewers victory, this much we know for sure, the NLCS will be headed back to Milwaukee. That simple fact makes Game 5 bigger game for the Cardinals, who would certainly like to go to Milwaukee up a game instead of on the verge of elimination.
"We want to be 3-2 going into Miller Park and not having to win two games over there. It's a big game, we've got Jaime (Garcia) on the mound. We're going to come ready to play," St. Louis infielder Nick Punto said. "It's one of those teams that we play pretty good with our backs against the wall and our backs are against the wall again -- we'll see what happens."
Milwaukee, it has been beat into the ground by now, had baseball's best home record. The Cardinals, though, were 4-5 at Miller Park this season, not a winning record, but pretty good against a team that only lost 24 home games all season. And St. Louis also split with the Milwaukee in the series' first two games.
"We've been in this situation. It's the best out of three," Albert Pujols said. "We want to win (Friday) and then we go to Milwaukee. But one thing we can look at is that we're pretty much the on in the team in the National League that played pretty well in Milwaukee. We need to flip the page, hopefully take the lead (Friday) and go to Milwaukee and win."
WHO HAS THE EDGE?



This is a tough one -- I usually just go on the pitching matchup, and even that is problematic. In the end, although Garcia has been very good at home this year and Zack Greinke has struggled in the playoffs and on the road, Greinke's the better pitcher. Garcia can be very good, and he's one of the best young pitchers in the game. Greinke, though, can be the best in baseball at times. The 2009 Cy Young Award winner has struggled in the playoffs thus far, but the potential to shut down a team -- even one as explosive as St. Louis -- is there.
Brewers' Zack Greinke: Greinke wanted out of Kansas City so he could pitch in the playoffs. The Brewers wanted him not only to help them get to the playoffs, but also to have a no-doubt No. 1 starter if they got to the playoffs. But it hasn't worked out that way. The Brewers have won both of his playoff starts, but Greinke's hardly been impressive in his two starts.
In his first playoff start, Greinke allowed eight hits and four runs in five innings, but did strike out seven Diamondbacks in Game 2 of the NLDS. He was back for Game 1 of the NLCS, allowing six earned runs on eight hits in six innings, but getting massive backing from his offense to earn the victory over Garcia.
"In all honesty, it's just another game… kind of," Greinke said Thursday when asked about his playoff experience. "I thought it might be a lot different, but it's really just a normal game, and you just get as ready as you can and do what you can. The first two games, I've given ups one runs, but I've been really happy with how I've pitched. So (Friday), I'm just going to do what I can do, and if I throw good, I'll be happy."
Cardinals' Jaime Garcia: Like Greinke, Garcia's been much better at his own ballpark, going 9-4 with a 2.55 ERA at Busch Stadium and a 4-3 record with a 4.61 ERA. In Game 1, he gave up six runs on six hits in just four innings before giving way to the Cardinals' bullpen. But that was at Miller Park.
"Obviously I like pitching here, but I don't really feel any different on the road," Garcia said. "I just feel like a lot of this throughout the year, a lot of the times where I've pitched on the road, it's just one of those things don't go your way, but I've had some good games on the road and then some not very good at home. So I can't really answer your question, because to me, it's all the same. Obviously, I like pitching at home -- you have the fans, you can sleep in your own bed. But other than that, to me it's the same. I just try to see it as any other game and then prepare yourself for that specific game."
His career home/road splits also show that Garcia's much better at home. He's 16-9 with a 2.37 in 35 appearances at home and 11-7 with a 4.28 ERA in 35 road appearances.
"If you want Jaime to pitch, this is where you want him to take the ball," Pujols said.
LINEUPS
NOTES
Since the seven-game LCS format was introduced in 1985, only 14 of the 52 series have been tied at two after four games. Of the previous 13 LCS tied at two, six have gone seven games and the other seven have gone six games.
David Freese's eight-game postseason hitting streak is the longest for a Cardinal since Scott Rolen hit in 10 straight games in 2006. Freese was 2 for 4 in Game 4.
The Brewers' last road victory in the playoffs was on Oct. 12, 1982, at old Busch Stadium in Game 1 of the 1982 World Series.
Brewers left fielder Ryan Braun has reached base safely in the first inning in each of the team's last eight postseason games, becoming the first player to do so in eight straight games. Gary Sheffield reached safely in seven straight in 1997 for the Marlins.
Francisco Rodriguez has no allowed an earned run in eight career LCS relief appearances. He allowed two unearned runs in Game 5 of the 2005 ALCS for the Angels against Chicago.
For more baseball news, rumors and analysis, follow @cbssportsmlb on Twitter or subscribe to the RSS feed.