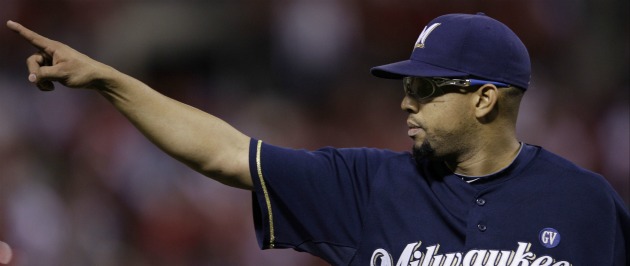 By C. Trent Rosecrans
ST. LOUIS -- The Brewers' bullpen has been a strength since the acquisition of Francisco Rodriguez, but a bullpen is a strength you don't really want to rely upon, especially in a postseason series.
Coming into Game 4, no Brewers starter had gone more than six innings in the NLCS and only once -- in Game 1 of the NLDS -- had a Brewers starter done it in the postseason. In the first three games against the Cardinalds, the Brewers bullpen had pitched 11 innings to 15 by the starters.
Now, there's been plenty of rest in between and there are enough arms to get it done, but it's not exactly a good sign when relievers are pitching that much. In Game 4 Friday, Brewers manager Ron Roenicke was finally about to use his bullpen just like he wanted it -- Rodrigue in the eight and closer John Axford in the ninth, simple as that.
That was due to the performance of Randy Wolf, as the veteran left-hander threw seven innings, allowing just two runs and none after the third inning of MIlwaukee's 4-2 victory over St. Louis.
Wolf, actually, was the first starting pitcher in this series to go into the seventh inning -- and he breezed through his last inning, finishing the day having allowed six hits, striking out six and walking one. He threw 107 pitches, 74 for strikes and retiring the final six batters he faced.
"There's no way I could put into words of just the intensity that's there every inning," Wolf said. "You know how important every out is. You know how either team, if they have an opportunity to score, how good they are at taking advantage of that opportunity."
• Cardinals manager Tony La Russa on using his bullpen: "We had a chance to win today. This is October. This is not the season where when this series is over you have to play for another 20 days or something. It's real simple. This is the end of the season for these starters, too, so they are probably not as strong. Go as far as you can, as long as you can and we have plenty of bullpen help."
• Wolf on Matt Holliday's second-inning homer: "Off the bat, I first thought i was a foul ball, and then I saw the ball staying fair, i thought it was going to be a fly-out. But you know, he's one of those guys that has brute strength. He's just a big, strong guy, and you know, I think all three of us, me, George (Kottaras) and Matt, we were all kind of surprised that went out. But he's a strong enough guy. It's like trying to pitch to Brian Urlacher. He's a beast."
• Cardinals right fielder Allen Craig on Wolf: "We jumped on him early, and then he went away from his change up and started going to his curveball. That made it tough on us and we just didn't adjust."
• Brewers manager Ron Roenicke on the decision not to pinch-hit for Wolf in the sixth: "There was a lot going on there. You know, really, if we decided -- we decided that if we had a great opportunity with Wolf's spot, that we would probably hit for him. But how it came up, really, if we were going to do that, probably we were going to have to also hit for George. So you go through (Jonathan Lucroy) and then use a pinch-hitter. If we used Corey (Hart), they would have walked him, left-to-lefty and probably to face Nyjer (Morgan). There was a lot going on. They had some options. They had (Octavio) Dotel down warming up. They had a lot of options, and we did, too.
"I don't know why we decided to leave it as is. We already were up a run, which had a lot to do with it (and) felt good with George facing Arthur Rhodes and putting it in play and at least getting us one run. And he did a good job there."
• Craig Counsell on Jerry Hairston Jr.: "Every time he comes up, his at-bats are so solid. He's been a great addition. I don't think anybody anticipated him playing that great a role, but I know he's impressed everyone in here, that's for sure."
• Hairston on the team's loose attitude: "You know what, we are a loose bunch of guys. Even when we were getting beat pretty good in Game 2, we were still kind of loose. They just caught fire and really beat us pretty good, and I think one of the guys said we need to score two touchdowns to get back in the game. That's the type of team we have to be, we have to be loose, because, you know, I think it was in late August or early September, we tried to tone it down and we lost three or four games in a row, and we said, you know, we can't be that way. We have to go out there and have fun. No disrespect to any team, but we have to go out and have fun and enjoy ourselves, and we've been doing that and we've been successful."
• Hairston on the Brewers' breaking their eight-game playoff road losing streak: "Eight? Oh, like in '82? Come on man. I guess we can blame them for most of those losses, right? They were a great team, Robin Yount, Paul Molitor. Listen, that was a long time ago. We felt that we had been a pretty good road team the last six weeks of the season and we felt our team really started to get complete. We felt we could play anywhere."
For more baseball news, rumors and analysis, follow @cbssportsmlb on Twitter or subscribe to the RSS feed.