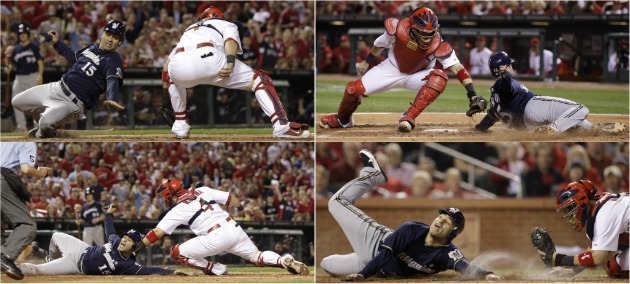 By C. Trent Rosecrans
ST. LOUIS -- The one thing Jerry Hairston Jr. knew as he rounded third base was that there was no way he was going to bowl over Cardinals catcher Yadier Molina -- and if he wasn't going to go through him, he had to go around him.
It's not easy when you're running full speed, trying to figure out when the ball is going to get to the plate and then trying to figure out a way around perhaps baseball's best defensive catcher. Not only did Hairston manage to do all three -- he did it in a huge situation, tying Game 4 of the National League Championship Series with his fourth-inning slide, as Milwaukee went on to beat St. Louis 4-2 to even the best-of-seven series at two games each.
Hairston started on second base when Yuniesky Betancourt laced a single up the middle -- "I wish Yuni would have hit like a 35-hopper through any hole just so it would be a lot easier for me to score," Hairston said. "He hit a bullet right at Jon Jay, and I had kind of a late jump because you want to freeze on a line drive. And I took off and thought I might get held up, but I was still running hard and I just found out that Albert (Pujols) had cut the ball off."
Jay fielded the ball on the second hop and let his throw go just as Hairston's left foot hit third base. Pujols caught Jay's throw on the short hop before making the relay throw to Molina. All the while, Hairston is hustling home and looking for a place to get the plate.
"If you see a guy blocking the plate, sometimes you have to run over the guy, but Yadier does a really good job of blocking the plate and not giving the runner a chance -- it's textbook, he does a great job," Hairston said. "I saw him blocking the plate, so I knew I had to find a place to get in there. He had it (covered), I had to do some dancing. I can dance a little bit, do a little Michael Jackson."
But getting around the catcher is one part, the next is finding the plate and tagging it -- while not getting tagged, either.
"I could sense it, that he was about to get the ball, so I had to get in there," Hairston said. "I was able to get in there without getting tagged -- I had to bend my back and get in there."
Replays showed Hairston got his fingers on the edge of the plate, while Molina's tag missed his target.
"He never touched me," Hairston said. "You feel when you get tagged -- trust me. He never touched me."
For more baseball news, rumors and analysis, follow @cbssportsmlb on Twitter or subscribe to the RSS feed.