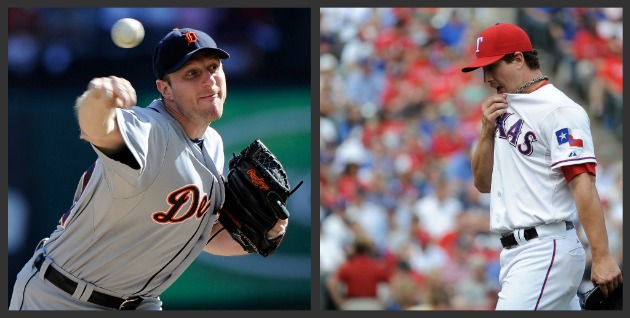 By Evan Brunell

Tigers at Rangers, 8:05 p.m. ET, October 15, Rangers Ballpark. Rangers lead series 3-2.
ARLINGTON, Texas -- Well, maybe this series isn't over just yet.
Staring at elimination, Detroit bounced back with nothing short of a huge game on Thursday, taking the final game in Detroit by a score of 7-5.
Detroit
rode a four-run sixth inning to victory
behind the phenomenal arm of
Justin Verlander
and two home runs by
Delmon Young
, who has gotten press all ALCS for his injuries and nothing he's done on the field. Well, he's done plenty now, and with pitching matchups appearing to favor the Tigers in the final two games, this is anyone's series.
WHO HAS THE EDGE?
Unfortunately for Texas, their best pitcher is done for the series (although
C.J. Wilson
didn't exactly
perform up to snuff in Game 5
.)
Offensively, the Rangers still clearly hold the edge, but Detroit showed they don't have an offense as bad as the
Mariners
in Game 5, and
Ryan Raburn
has been rather impressive filling in for both Young and
Magglio Ordonez
when they were affected with injuries. Defensively and on the basepaths, the Rangers have the obvious edge. But what it really comes down to is pitching and at this point, no one can deny Detroit has the edge here.
Tigers' Max Scherzer: Scherzer has had an impressive postseason thus far, giving up just five runs in 13 1/2 innings across two starts and one relief appearance. Scherzer's only ALCS outing to this date came in Game 2, the game where Nelson Cruz made history with a walkoff grand slam.
In that outing, Scherzer was chugging along until the seventh after an inconsistent start to the game, an inning he probably shouldn't have come out for. He gave up a Cruz homer to lead off the inning and then was immediately yanked. With Joaquin Benoit and Jose Valverde both receiving two full days off, Leyland shouldn't have to ride Scherzer hard.
"Scherzer, what an arm," Rangers manager Ron Washington raved prior to the righty's first start. "It's unorthodox, doesn't throw anything straight, and for some reason when he faces us, he finds the strike zone with more consistency with all his pitches."
Scherzer has been particularly hot since the All-Star break and at this point should be considered a No. 2 starter. He made three starts against the Rangers in 2011, posting a 4.76 ERA in 17 innings, striking out 12 and walking four, with the team winning two games. Cruz has two homers off Scherzer in his career and is hitting .333 while Michael Young has three extra-base hits against Scherzer, but only four hits in 21 plate appearances. Aside from Cruz, no one has really keyed into Scherzer yet.
Rangers' Derek Holland: Holland, like Scherzer, enjoyed a nice run in the latter half of the 2011 regular season, but inconsistency still plagues him significantly as his Game 2 start opposite Scherzer showed. Holland actually had a shaky start to the postseason in Game 2 of the ALDS but recovered to win the game. He also impressed in relief in Game 4, but the wheels completely fell off against Detroit in Game 2 of the ALCS.
Holland gave up four hits and three runs in just 2 2/3 innings, with Scott Feldman manning up and blanking the Tigers for 4 1/3 innings, setting up the stage for Cruz's heroics. You can bet that Feldman will be ready to go at a moment's notice should Holland fail. In addition, you can also bet that Washington won't mess around and leave Holland in the game and try to extend his outing if it's clearly not working. At this point, in a Game 6, you don't take chances.
Holland's start in the ALCS against Texas is the only time he's faced the club in 2011. That's obviously in Detroit's favor but add in Delmon Young being in the lineup, and one has to seriously consider the fact the Tigers might not just be "slightly" favored in this game... but heavily favored. Reading too much into small sample sizes is not recommended, but Young has six hits in 12 at-bats against Holland over his career, so he obviously has something working against the lefty.
LINEUPS
NOTES
Weather complicated each game in Texas earlier this series. Game 1 had two rain delays, while Game 2 was postponed a day due to inclement weather. Well, good news. We're back to a normal Texas drought for Game 6, with 80-degree weather during the day and nighttime climbing into the 70s with no precipitation expected.
Miguel Cabrera extended his LCS hitting streak to 12 games to start his career, one shy of Greg Luzinski for the record.
Nelson Cruz's five home runs so far in the LCS is tied for the LCS record, while his 11 RBI is tied with David Ortiz and B.J. Upton for the top spot. He already has 11 postseason home runs in his career over two seasons. I mean... come on.
For more baseball news, rumors and analysis, follow @cbssportsmlb on Twitter or subscribe to the RSS feed.