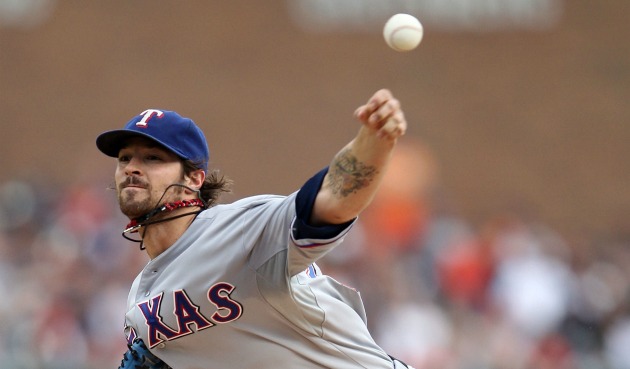 By Evan Brunell
DETROIT --
Unlike the battle of aces to open up Game 1 of the ALCS, this time around,
C.J. Wilson
wasn't able to come up with a victory against
Justin Verlander
.
The big play that changed the tone of the game was a
Miguel Cabrera
double that clipped off the third-base bag, scoring
Ryan Raburn
from first base with the go-ahead run. It was all downhill from there.
"Literally a bad bounce," Wilson said after the game, but he refused to pass the buck to the third-base bag, which skipper Jim Leyland says will one day rest in his memorabilia room. "A bad bounce's a bad bounce, you can't control something after it happens. I can't go make the base move."
"Even with that play, it's 3-2," Wilson added. "We're still in the game. I didn't make the right pitches to get out of the inning."
That's certainly true, as he gave up a triple to
Victor Martinez
next, followed by the big blow that all but iced the game for the
Tigers
in
Delmon Young
's second homer of the game putting Detroit up 6-2. All of a sudden, a Tigers offense that had been quiet all series and lacked that one big hit to put them over the hump seemed to do no wrong.
"My job is to get those guys out and I got 2 strikes on Victor and threw a pitch that was up just enough that he could hit it down the line," Wilson said of the triple that plated Cabrera with the team's fourth run. 'It was a pitch where I didn't intend to throw it."
Wilson couldn't say the same thing about Young's homer that traveled 393 feet and sent the Tigers crowd into delirium.
"It wasn't even a strike," Wilson mused about the 89-mph cutter he delivered that was up out of the strike zone, but over the plate. "It was a chase pitch and he kept it fair. Looking back, obviously it was the wrong pitch. It was a very painful lesson for me."
All told, Wilson gave up three home runs in the game, which gives him six homers allowed the entire postseason. He gave up just 16 in the regular season, and that's an even more impressive mark considering Wilson pitches his home games in Arlington, Texas where the ball can fly out like a missile during the hot days of summer. When asked what the difference has been, Wilson pondered the question for a while before giving up.
"I've made a couple mistakes," he admitted, "but I can't really put my finger on one particular thing. It's not like they're all one pitch or one spot."
Now, the series is headed back to Texas. The
Rangers
may still be in pole position given they have to win just one game while the Tigers have two more to go, but at this point, it's really anyone's game. The series has been so close, with both teams so evenly matched, it's truly incredible what an amazing ALCS we have witnessed so far. It's all that much more impressive when you see just how banged up both teams are, and how both teams have had to struggle with inclement weather affecting the outcome of three games. Even Game 5 was threatened when rain started falling near the end as a storm approached.
Wilson unsurprisingly refused to allow injuries or rain to serve as an excuse, pointing out that the Tigers are struggling, too.
"Everyone's going through it. Their guys are banged up, our guys are banged up," he said. "This is baseball. This isn't basketball. We don't have a wood court, a roof every game."
Indeed, it's baseball, and it's been a great thing to watch. Now we get to watch another game on Saturday.
For more baseball news, rumors and analysis, follow @EyeonBaseball on Twitter or subscribe to the RSS feed.