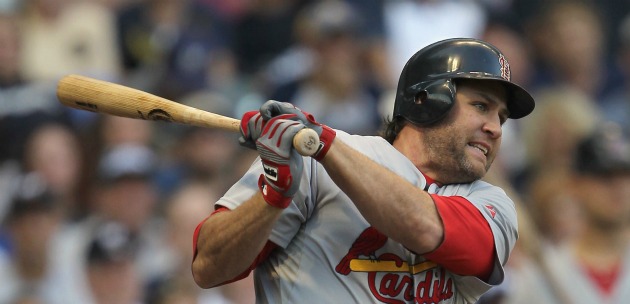 By C. Trent Rosecrans
ST. LOUIS -- Lance Berkman won the National League Comeback Player of the Year Award, but if he gets a chance to show why in Game 4 of the NLCS, it'll be in the late innings as a sub.
"Guys are kidding me, his reward for the award was a spot on the bench, so they were giving him a hard time," Cardinals manager Tony La Russa said.
It's not just Berkman getting shown the seat for Game 4 -- the Brewers are also going with a different right fielder, sitting Corey Hart in favor of Mark Kotsay.
Both Berkman and Hart have had trouble with the starting pitchers, Randy Wolf and Kyle Lohse, respectively. Berkman is just 3 for 32 lifetime against Wolf and Hart is 2 for 17 against Lohse.
While those aren't the largest sample sizes, Berkman said it's enough for him to understand the move by La Russa.
"I think off of an individual pitcher, once you get 15 at-bats, you probably have a decent idea about -- and even if the numbers are not -- don't tell the whole story, at least personally, you know how you feel when you go up there, like whether you feel like -- I can see the ball fine, and I've lined out eight times, and I haven't gotten any; or, if it's, man, I've got no chance and I've really struggled, this guy, he's just got my number or whatever," Berkman said. "You can tell that as a hitter pretty quickly; I would say as many as 10 at-bats, or as few as 10 at-bats I should say. Certainly I think when you compile 15 or 20 at-bats against a guy, you can have a decent idea. And again, none of this is hard and fast. I mean, heck, if I had started tonight, I might have gotten three hits. You just don't know. But, being a game of percentages and playing percentages, I think that -- I mean, I have 30 at-bats against Wolf, so I think that's plenty to figure out that I don't hit him very well at all."
Berkman is also slightly hobbled after getting hit by a pitch Wednesday night in the leg.
With Berkman out, La Russa moved David Freese up from seventh in the lineup to fourth and moved Matt Holliday back to fifth. Holliday has just two extra-base hits in his last 53 at-bats. In Berkman's spot in right field is Allen Craig, batting second. Craig's not exactly been a world-beater against Wolf either. Craig is 1 for 15 lifetime against Wolf and 0 for 12 this season.
Brewers manager Ron Roenicke told Hart after Wednesday night's game that he'd be sitting him for Game 4.
"Just Corey's scuffling lately, and he scuffled against Lohse," Roenicke said. "So I talked to him last night after the game, and it sounded like putting Kotsay out there was a good way to go about it."
Kotsay is just 1 for 13 against Lohse. But Kotsay did have a home run Wednesday night and walk twice, while Hart is 1 for 12 in the NLCS and 6 for 33 in the playoffs. But Roenicke did say he'll be ready to use Hart as a pinch hitter if needed.
"it's really nice for me knowing that Corey Hart is on the bench as a pinch hitter," Roenicke said. "He's dangerous. They can't bring in a right-hander to face him because they think it's going to bother Corey."
For more baseball news, rumors and analysis, follow @cbssportsmlb on Twitter or subscribe to the RSS feed.