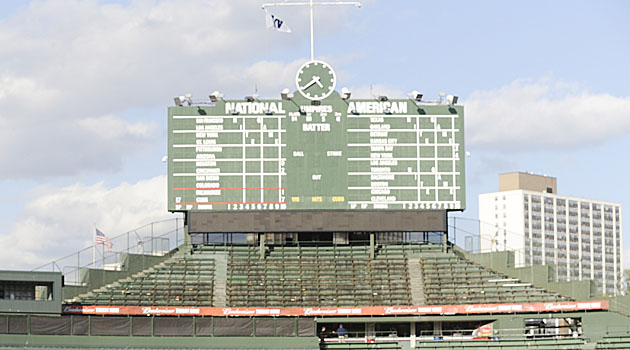 By Matt Snyder
Congratulations, Theo Epstein, on likely landing the new gig of
Cubs
president, CEO, general manager, czar, savior, curse-breaker and deity. In addition to all those millions of dollars, you now inherit a mess of a franchise. The good news is that statement only exists in the present and very near future. Things can be cleaned up rather quickly. Here's why:
• It's funny to read all over the place about how the Cubs have
so many awful contracts
and are so much more handcuffed on payroll than Epstein is used to. The fact of the matter is that only
Alfonso Soriano
and
Carlos Marmol
are signed past 2012, along with the young players who will still be under team control and don't make much. And then Marmol's contract expires after 2013. Depending on arbitration raises and possible extensions (
Matt Garza
, maybe?) the Cubs are shedding somewhere in the ballpark of $50 million from their 2011 payroll. Come 2013, as things currently stand, only $28.8 million is committed (to Soriano and Marmol). In 2014, only Soriano's absurd $19 million salary is still on the books, but by 2015, there's nothing left.
• My guess is it's true, for now, that Epstein is likely going to be told to not exceed a figure like $135 million with his payroll and that is a good amount less than the
Red Sox
's current figure. But here's the mitigating factor: The Cubs are in the NL Central, where they easily have the largest market and revenue stream in the division. In Boston, Epstein was trying to keep up financially with the mighty
Yankees
. In the Chicago, his biggest competitor in terms of market size is Houston --
which is departing for the AL soon
-- and in terms of revenue stream it's St. Louis. The Cubs have the resources to be the "big boy" in the division, which wasn't possible for Epstein in Boston.
• Cubs chairman Tom Ricketts has already shown a significant commitment to player development. The Cubs spent a huge amount of money on the 2011 draft and they are
building a state of the art academy in the Dominican Republic.
They are looking to make
major upgrades to Arizona's spring training facility
, which would serve as a type of home base for player development. The Cubs also have a great reputation for international scouting. Put simply, Ricketts has noticed the biggest problem for the Cubs has been a system that doesn't regularly churn out its own prospects and he has done everything he can to rectify that issue in the short term.
So, that's why the job was attractive, but there's no doubt there's a lot to be done. This is a team that went 71-91 and has a pretty lackluster level of talent in the upper levels of the minors -- not to mention the aging major-league roster.
As every franchise faces when trying to make a losing team into a winning team, there are three distinct routes that can be taken. Let's take a look at each and get specific.
Route 1: The Complete Rebuild
Don't pick up the options for
Ryan Dempster
or
Aramis Ramirez
. Trade younger veterans of value like
Geovany Soto
,
Sean Marshall
and Matt Garza. Do whatever it takes to off-load Alfonso Soriano's contract. Do the same with
Carlos Zambrano
. Carlos Marmol and
Marlon Byrd
might land decent returns, so they would also be traded. Don't re-up with any veterans like
Kerry Wood
. Just completely revamp the entire farm system and build around
Starlin Castro
and
Andrew Cashner
. Then tell everyone they need to be patient, as the goal is to grow the system from the foundation and start competing in 2014.

Chances this happens:
Decent to good, for at least part of this. Epstein very well may start completely slow and see how things pan out with several different young players. I do think he would keep Garza with Castro and Cashner and then start to pounce on free agents starting next offseason.
Route 2: The Chips to the Center of the Table
Re-up with Dempster and Ramirez. Do what it takes to sign
Prince Fielder
and
C.J. Wilson
, including backloading deals to make the budget work. Move Starlin Castro to second base and sign
Jose Reyes
(again, backloading). Grab someone like
Javier Vazquez
,
Chris Young
or
Joel Pineiro
to fill out the rotation. That means the starting nine would be: Soto, Fielder, Castro, Reyes, Ramirez, Soriano, Byrd and probably
Bryan LaHair
. The starting rotation could be: Wilson, Garza, Dempster, Vazquez and
Randy Wells
. That leaves Andrew Cashner -- who is hitting triple digits on the radar gun in the Arizona Fall League -- to be the closer. Marmol can stay in the bullpen and hope to work on his control. Wood, Marshall and
Jeff Samardzija
would be the setup men.

Chances this happens:
Ridiculously
slim. Actually, zero. Epstein isn't a moron and this would be absurd for the long-term health of the franchise, especially considering the team probably still wouldn't be good enough to win even an NLDS, if it made it. There's no depth, either, since the high levels of the minors don't have a lot of help coming. And could Epstein even get all those guys if he tried? Finally, the band-aid-on-a-broken-leg approach got Jim Hendry fired, so there's no way Tom Ricketts would hire Epstein to do the same thing.
Route 3: The Combination
I often chuckle when people think you absolutely have to choose either Route 1 or Route 2. In a small market, yes, you have to completely rebuild and hope all the young players get good at the same time, like the
Royals
appear to have happening in 2013 or 2014. In a large market, the resources are there to do both. Epstein developed the likes of
Jacoby Ellsbury
,
Jon Lester
,
Jonathan Papelbon
and
Dustin Pedroia
while also making trades for veterans and signing big-name free agents in Boston. It's a much bigger project this time around, but the goal can be to do something similar in Wrigley. While the farm system is being revamped for the Cubs, an effort can be made to start allowing the aging veterans to leave via free agency while players like Soto, Marshall, Marmol, and Dempster (with him, it's a one-year option and there will be enough money to retain him) can be kept around. Wood can be re-signed for another one-year, $1.5 million contract. And then you can fill holes with younger free agents. C.J. Wilson? Pass on him and keep your eyes on that 2013 pitching free agent class that could contain
Matt Cain
,
John Danks
,
Zack Greinke
,
Cole Hamels
,
Shaun Marcum
,
Brandon McCarthy
,
Anibal Sanchez
,
James Shields
and more. A 27-year-old Prince Fielder? Yes, please. The Reyes signing mentioned above, with moving Castro to second? Nope. Not now. Try Andrew Cashner and Jeff Samardzija in the rotation? Yes and maybe. Give LaHair a shot in right field, absolutely. He had a huge 2011 season in both Triple-A and then hit the ball well in his short time in the majors. Do you think about promoting center-field prospect Brett Jackson and trading Byrd midseason? Sure, if the Cubs aren't in the race. The whole point is that, ideally, with this plan, you'd put a team together for 2012 that appears to be average, giving it the chance to overachieve and sneak into the playoffs -- but the eyes are certainly on 2013 being
the
turnaround year. From there, you strive to compete for the World Series title every ensuing season.

Chances this happens:
I feel like this is the most likely route. The main benefit is you don't completely punt 2012 after getting the fan base excited with the big-name hire. In the complete rebuild model, you're liable to lose 100 games and kill fan morale instead of capitalizing on all the excitement. And in the win now model, there just isn't enough there to bring it all together in one offseason. So here we are. Here, you can have a mildly successful 2012 season while getting the fans excited for a bright future. All the moves above are just examples of what can be done, as the plan can be the same but be done with totally different moves.
But this is all purely speculation -- and fun, as is all hypothetical talk -- as the only person who really knows what is going in on Epstein's head right now is Epstein himself.
For more baseball news, rumors and analysis, follow @EyeOnBaseball on Twitter or subscribe to the RSS feed.