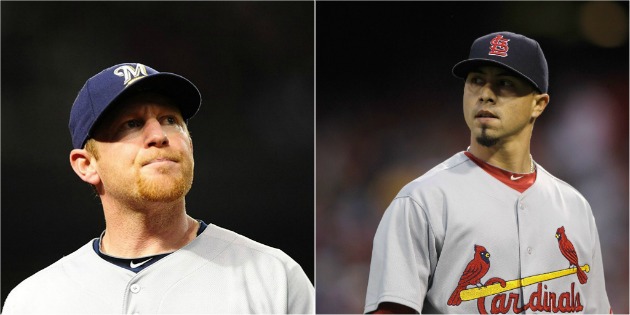 By C. Trent Rosecrans
ST. LOUIS -- Brewers at Cardinals, 8:05 p.m. ET, Oct. 13, Busch Stadium. Cardinals lead series 2-1.
The fate of the Brewers is in the hands of Randy Wolf and a playoff-rattled Zack Greinke. That's not the most encouraging sign. Add to the fact the Cardinals need to win two more games to close the series out and the next two games are at Busch Stadium… let's just say if you're a Brewer, things are not looking good.
Milwaukee has yet to win a playoff road game, losing all three postseason games away from Miller Park, including Wednesday's 4-3 loss to the Cardinals.
Game 3 will feature Wolf against St. Louis' Kyle Lohse.
WHO HAS THE EDGE?



It's not as clear cut as anyone who saw Wolf's National League division series start at Arizona would think. As bad as the left-hander was in Arizona (seven runs in three innings), he's been decent against the Cardinals, especially in St. Louis. This season he was 3-2 with a 5.34 ERA against the Cardinals and 2-1 with a 3.43 ERA in three starts at Busch Stadium, where he is 4-4 with a 3.50 ERA in his career.
The Cardinals' big boppers don't exactly have the best track record against Wolf -- Lance Berkman is 3 for 32 lifetime (.094) against Wolf, striking out seven times and with no homers. Matt Holliday is hitting just .216 (8 for 37) with one homer off of Wolf and Albert Pujols is hitting a rather pedestrian (for Pujols) /286/.306/.571 against Wolf, but has driven in 13. Rafael Furcal, who has been so important to starting off the Cardinals' offense, has just a .241 on-base percentage in his career against Wolf. So there is some reason for a shred of optimism.
And then there's Lohse, who has battled inconsistency his entire career. Lohse had a career-best 3.39 ERA and led the team with a 14 victories in 2012, but he struggled in his only postseason start so far, allowing six runs (five earned) in 5 1/3 innings in Game 1 of the NLDS. There's a reason he hasn't pitched since then -- and that's because despite his numbers (and contract), he's still the team's fourth-best starter.
Lohse made three starts against the Brewers and pitched well, but had a 1-2 record despite a 2.37 ERA. Four of the five runs he allowed to the Brewers this season came in a June 10 loss at Miller Park. In his two starts against the Brewers at Busch Stadium, he allowed just one run on 10 hits in 14 innings, splitting those decisions.
Brewers' Randy Wolf: Wolf was hoping his 2011 wouldn't end on his disastrous Game 4 start in Arizona.
"I think the biggest thing that I felt when we won Game 5 against the Diamondbacks was relief, because if I would have left the season -- that would have been my last start and it would have been a hard offseason for me," Wolf said. "I wanted to give (Yovani Gallardo) a kiss, because just to have that opportunity to pitch again was a very big deal for me. Regardless of what happens, I just wanted that opportunity again."
In that outing, he said he couldn't control anything but his fastball, which meant he was either getting behind or leaving his offspeed pitches over the plate to get hammered.
"When you're 2-0, 3-1 on hitters that are swinging the bats well, you're basically fighting an uphill battle," Wolf said. "You know, I learned that there's some way that I have to find my feel out there. I have to find a way to throw pitches for strikes and figure out early -- I was very stubborn with my curveball the last game. I kept on throwing it and it got me behind in a lot of counts. So I have to find out early what I'm going to throw for strikes, and after I do that, the first two or three innings, then you can figure out what other pitches you can go to."
Cardinals' Kyle Lohse: Lohse hasn't pitched the first day of the month when he lost to the Phillies in Game 1 of the NLDS, but said it's been nothing new to him.
"During the second half, I had a couple of layoffs like that where actually I think right before my last start against Milwaukee, I had about 11 or 12 days off," Lohse said. "This time was a little different. I didn't have time to do two sides or anything, because I was available in the bullpen during that Philadelphia series and never threw. But I've just tried to stay sharp, throwing flat grounds. I had my regular bullpen session the other day, felt good."
Lohse's memory is a little off -- he had seven days between his Aug. 28 start in St. Louis against the Phillies and his Sept. 6 against the Brewers at Busch Stadium. However, he did have success, that part he remembered correctly, allowing just four hits in six shutout innings. He also had one stretch of 10 days of rest that straddled the All-Star break, and allowed four runs on 10 hits in 5 2/3 against the Mets in a Cardinals loss on July 19.
LINEUPS
NOTES
Although rain was expected in St. Louis on Thursday, it's supposed to be out of the area by game time. Rain fell during some of Game 3, but there were no delays.
Watch out for the Cardinals in their first inning -- St. Louis has scored in the first inning in each of its last five games this postseason and six of the eight total games in the playoffs. Wolf has an ERA of 6.00 in the first inning this season and gave up five runs in the first inning in his NLDS Game 4 start. The Cardinals are the first team to score in the first inning of five straight postseason games since the 2004 Red Sox.
Cardinals third baseman David Freese didn't have a hit in the Cardinals' first game of the postseason, a loss to the Phillies. He's hit safely in each game since. He's hitting .407 with four doubles, three homers and 11 RBI over that streak.
The Brewers are 3-11 all-time in postseason road games, including 0-3 this season.
Mark Kotsay's third-inning homer in Game 3 was his second postseason homer, but his first to go over the fence. He hit an inside-the-park home run for Oakland at MInnesota in the 2006 ALDS.
For more baseball news, rumors and analysis, follow @cbssportsmlb on Twitter or subscribe to the RSS feed.