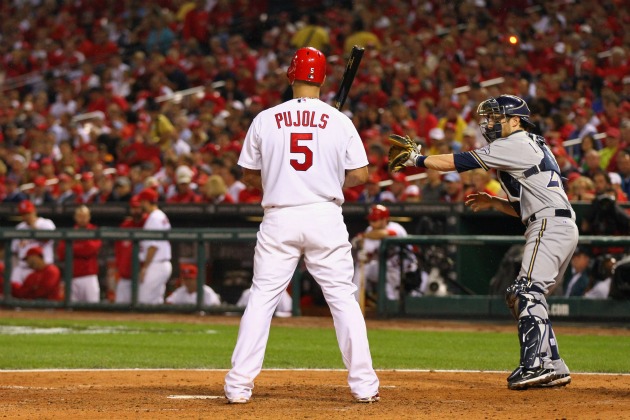 By C. Trent Rosecrans
ST. LOUIS -- Brewers manager Ron Roenicke has repeatedly said he doesn't like to intentionally walk batters -- but he ordered three free passes in Wednesday's 4-3 Game 3 loss to the Cardinals, two to Albert Pujols. All three worked.
"I think when it really makes sense, we'll do it. I don't want to just put him on to put him on. You saw we put him on with a guy on third base. Next thing you know, it's second and third instead of first and third. They get a base hit there, they are scoring two runs instead of just one," Roenicke said. "We are going to pick our spots where we think we need to do it. If it comes up, you know, where it makes sense, then we'll try to put him on. But you know, he's scary when he's hitting everything, and we make good pitches and he's still hitting them. He's done a lot of damage to us."
Pujols had hits in both at-bats in which the Brewers threw to him.
Cardinals right fielder Lance Berkman was asked if he would pitch to Pujols right now: "Maybe. It would just depend on match ups. I don't think anybody thinks as highly as I do in terms of where he ranks in the history of the game, I think he's probably the greatest hitter ever -- doing it in this ballpark and in this era. It's a worldwide game, you have players from all over everywhere," he said. "That being said, I'm having a hard time walking anybody to get to Matt Holliday. This guy's won a batting title, he's been an LCS MVP. So, you might get him a couple of times, but you better be careful, because if you keep doing it, he's going to make you pay."
Holliday was 0 for 3, so he didn't. He has three hits in the series, but all three have been singles.
Other things overheard after Game 3:
• Cardinals starter Chris Carpenter on Albert Pujols: "I was very fortunate to watch this guy play of rate last nine years. And when you are that type of player at that level, the expectations from you, me, I'm sure his family, his kids' friends, I mean, anybody that's out there, the expectation levee for what he's supposed to do is unbelievable. That being said, he continues to amaze me every single year. Every year, you can't believe the things that he does, the games that he has, the pressures that he deal with, distractions that he deals with.
"Coming int this season, free agent, how much money he is going to get, best player in baseball, is he going be here? Is he not going to be here? And he comes in, just like the same old Albert, and works hard in spring training, starts off a little slow, everybody is questioning whether or not it's because of his contract situation. No, he continues to grind, he continues to play and continues to do the things that amazes every single one of us every single day. So what he's doing now, does that -- it's him. That's who he is. He's an exceptional player, exceptional hitter. He's got the mind of stone. Nothing bothers him no matter what the situation he's in -- and that's what makes him great."
• Brewers infielder Craig Counsell on the Cardinals bullpen: "They've struggled with their bullpen, but they've got guys in the roles they want them in now. They've turned the corner."
• Mark Kotsay on Chris Carpenter: "He didn't have a feel for his curveball. He left some pitches on the plate that we took advantage of. But he made his pitches when he had to, got out of a couple of jams ... it was interesting that Tony took him out there with the pitcher's spot coming up in the fifth, but Tony (La Russa) obviously knows Carp, he knows his bullpen and he did a great job."
• Cardinals third baseman, and Missouri native, David Freese on Stan Musial's pre game appearance: "It's unreal. Every time Stan Musial comes around the clubhouse, we take time to go say hi to him. And when he gets on the field, whether it's tonight or opening day, all of the guys that are in the Hall come out and join him. It's just special to be a part of."
• Carpenter on Octavio Dotel and Arhtur Rhodes: "I think Doti and Arthur have brought a lot of confidence to some of these younger guys to not care; to go out, not be concerned about what's going to happen. Let's go out and give it our best and see what happens. If it works, it works; if it doesn't, it doesn't, and we'll go get 'em the next day."
• Tony La Russa on Yovani Gallardo: "He's got all of the pitches. We got him before he got sharp, but he's the real deal and he showed it. We had a couple of great chances to add, which normally come back to haunt you, but our pitching staff prevented that. But let me tell you, he's a handful, and he's every bit as good as a No. 1 starter is supposed to be."

• Gallardo on his start: "I think I was off the whole game, to be honest with you, even after the first. The four innings after that, I was struggling putting the ball where I wanted to."

He was then asked if it was any pitch in particular: "A little bit with every pitch. I'd hit my spot, and then the next one would be up in the zone, or not even close."
• Corey Hart on the Freese double in the first inning: "It just kind of carried off, but I still had to go after it. I knew I was close to the track. It was like his home run [in Game 2] the other day, it just kept going. He's a strong kid."
For more baseball news, rumors and analysis, follow @cbssportsmlb on Twitter or subscribe to the RSS feed.