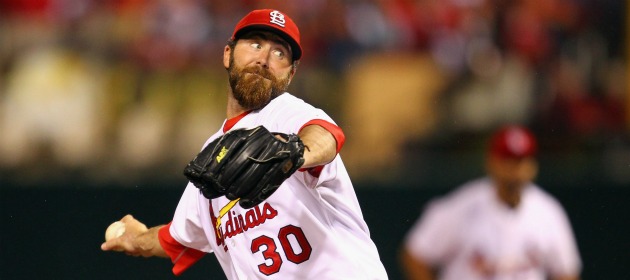 By C. Trent Rosecrans
ST. LOUIS -- Only the Nationals had more blown saves than the Cardinals this season, as 26 times the Cardinals had a save situation and then lost a lead. But Wednesday, Chris Carpenter left the game after just five innings in Game 3 of the NLCS and said he wasn't worried about the outcome.
"Typically, as a starting pitcher, you're concerned about that -- you don't want to leave 12 outs for your bullpen," Carpenter said. "I was OK with it. I worked as hard as I could. I had confidence in my guys down there. I had confidence in what they were going to do. And they did it again."
Not only did the Cardinals relievers -- four in all -- get the 12 outs needed, they only needed to face 12 batters to do it. No Brewer reached base after Carpenter intentionally walked Prince Fielder with two outs in the fifth. Fernando Salas got three fly balls to get through the sixth, then Lance Lynn had three fly outs in the sixth and stayed in the seventh to get Ryan Braun to ground out for the first out before lefty Marc Rzepczynski came in to face Prince Fielder. Rzepczynski got Fielder to strike out on four pitches before giving way to Jason Motte -- the team's not-closer -- to strike out Rickie Weeks and then stay in for the ninth and get two strikeouts and a ground out, ending the game.
"Get 12 outs against that offense -- it's not going to work very often that you can put four zeroes against their offense," manager Tony La Russa said. "But each guy came in and really stepped up. I thought they were really aggressive, they threw good strikes and didn't fall behind."
There's been an on-going joke that La Russa still refuses to call Motte his closer -- but since recording his first save on Aug. 28, he's had one blown save a 2.91 ERA. In the playoffs, he's yet to surrender a run, recorded three saves and appeared in five games, all while allowing just one hit.
"Now we've got a guy that's throwing 100 mph, has a nasty slider, it's a presence out there, a force, and you just tip your hat to him because he's turned himself into a closer pretty quick," Berkman said, before he was reminded Motte's not been designated the "closer" by La Russa. "Well, he ends the games for us, whatever you want to call it."
There's talk that La Russa would like to get a big-name, veteran closer during the offseason, so if Motte's not the closer, he doesn't have to demote him. For this season, though, the Cardinals turned around their bullpen late in the season when they traded for right-hander Octavio Dotel, left-hander Marc Rzepczynski and starter Edwin Jackson. Jackson allowed the team to move Kyle McClellan back to the bullpen to fortify the back end.
Salas, Lynn, Dotel and Mitchell Boggs all recorded saves in the second half of the season, but Motte's seem to hold it down lately.
There's also the fact that the guy who more or less invented the modern bullpen usage is pulling the strings -- and for this series he has eight relievers to chose between.
"Tony is the most prepared person I've ever been around. He lives and dies by numbers, by match ups, by lineups," Carpenter said. "I mean, everyone questions at times why he throws different lineups up there. It's because there's reasons behind that. He's put his work into knowing why he's doing that.
"Why does he push the right buttons at the right times? Because he puts in work, he puts his time into knowing when to push the right buttons. There's a reason why he's won so many games he's won. There's a reason why his teams continue to win. There's a reason why he's a Hall of Fame manager and that's because he puts his work in, he's prepared more than any person I"ve ever see, and when he does push those buttons, he has no fear whatsoever, whether it's wrong or right, and he will answer to it if it's wrong and he will answer to it if it's right. And he's not scared about it, and that's what makes him great."
He also has little reason to be scared of his bullpen anymore. Now that fear should be in the opponent.
For more baseball news, rumors and analysis, follow @cbssportsmlb on Twitter or subscribe to the RSS feed.