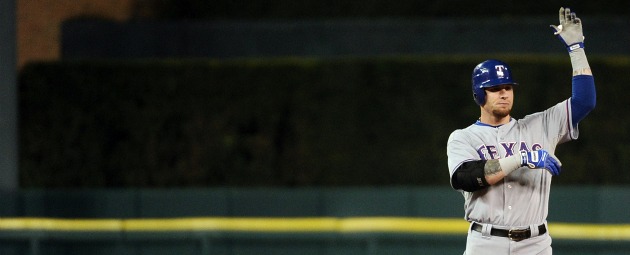 By Evan Brunell
DETROIT -- The Rangers rode a four-run 11th inning to victory, taking a commanding 3-1 series lead in the ALCS against the Tigers.

Hero: The Napoli man can. Mike Napoli strode to the plate with runners on first and second in the 11th inning in a tie ballgame. For some reason, skipper Jim Leyland thought it would be a good idea to intentionally walk the 0-for-4 Adrian Beltre in front of Napoli to set up a force, after Josh Hamilton (pictured) doubled to begin the inning. After the game, Tigers manager Jim Leyland said, "You're just trying to set up a double play. I didn't want Beltre and Napoli both to hit against [reliever Jose Valverde]."

Problem: Napoli ripped a single into center field for his second hit of the game, scoring the go-ahead run. Look, Beltre is a dangerous hitter, but so is Napoli. In that situation, I take my risks with Beltre, who is more aggressive at the plate and may still have been hurting from fouling a ball off his knee in Game 3.


Goat: The Tigers tried way too hard to make something happen in the 10th inning when Austin Jackson was gifted first base on a hit by pitch. The Rangers still had to get through Ryan Raburn and Miguel Cabrera to end the inning, and yet Austin Jackson took matters into his own hand and tried to steal second, a move Leyland said he agreed with. Jackson was thrown out at second, which was an idiotic move. You can't take the stick out of Cabrera's hands, especially in the bottom of the 10th inning. Sure, Raburn could have hit into a double-play, but give him that chance instead of risking Jackson being caught stealing.
The Rangers wouldn't allow Detroit another chance to win.

Turning point: The Rangers finally broke through for three runs in the sixth to take the lead. The man responsible for the go-ahead run in Michael Young had been struggling all postseason long, but finally came through in a big spot by singling in Elvis Andrus. David Murphy opened the sixth with a single, then after a popout, Ian Kinsler doubled to deep left where Delmon Young misplayed the carom and allowed Murphy to score. Andrus followed by plating Kinsler, who was on third after stealing a base. A Hamilton flyout and Porcello pickoff error later, Andrus crossed the plate on Young's single to completely deflate the Detroit crowd. It took a while for the next run to be scored, but extra innings don't happen without this inning.

It was over when... The Tigers kept making mistake after mistake in the late innings and were burned like crazy in the 11th when they intentionally walked Adrian Beltre only to see Mike Napoli deliver a RBI single. But the game wasn't over at that point -- after all, Texas only had a one-run edge. But then Nelson Cruz blasted a three-run homer that put the stamp on the game. Cruz is the only player to ever hit two extra-inning homers in a postseason series.

Next
: Detroit will attempt to stave off elimination by sending
Justin Verlander
to the hill at 4:19 p.m. ET. The Rangers counter with their own ace,
C.J. Wilson
.
For more baseball news, rumors and analysis, follow @EyeonBaseball on Twitter or subscribe to the RSS feed.