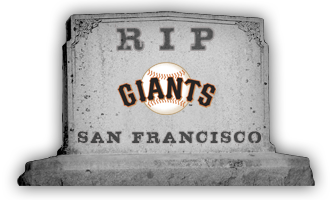 By Matt Snyder
Another season gone, another disappointment for 29 teams as one is immortalized forever. Let's take a look back at 2011 and forward in Eye on Baseball's R.I.P. series...
Team name:
San Francisco
Giants
Record:
86-76, second place in NL West, eight games back.
Manager:
Bruce Bochy
Best hitter:
Pablo Sandoval
-- .315/.357/.552, 23 HR, 70 RBI, 55 R, 26 2B
Best pitcher:
Tim Lincecum
-- 13-14, 2.74 ERA, 1.21 WHIP, 220 K, 217 IP
2011 SEASON RECAP
The defending World Series champions entered the 2011 season with high expectations and as heavy favorites to win the NL West again. For most of June and July, they held first place, too. But the
Diamondbacks
played really well down the stretch and the Giants just couldn't get enough offense going to keep up. An eight-game winning streak in the middle of September -- teamed with the
Braves
' collapse -- got the Giants to within striking distance of the NL wild card, but it wasn't to be.
We cannot discount the blow
Buster Posey
's injury caused to the team. He's a major part of the offense and he was only able to play 45 games this season. Still, the story was the Giants' pitching carrying the team and the offense just not doing its part. Only the
Phillies
had a better staff ERA than the Giants in the NL, while the Giants ranked dead-last in the NL in runs scored. Yes, they even managed to score fewer runs than the
Padres
,
Pirates
and
Astros
. No matter how good your pitching is, you can't make the playoffs with that large a void in offense.
2012 AUDIT
The Giants don't have a very strong farm system, according to most outlets, but a lot of the good talent on the major-league roster is young. Still, with the Diamondbacks and
Rockies
-- and maybe even the
Dodgers
, if they can get through the McCourt nonsense -- set to be strong in the upcoming years, the Giants window of contention with this nucleus won't last much longer. Don't get me wrong, three years from now, the Giants will be freed from some bad contracts and may never even fall below third place in the division, assuming they spend smarter in free agency than they have in the past. But in order to get back to first place in 2012, short-term moves need to be made to shore up the offense.
Getting Posey back will definitely help improve the team, as will full seasons of continued development from the likes of
Brandon Belt
,
Madison Bumgarner
and several other young players.
FREE AGENTS
Orlando Cabrera
, utility IF
Mark DeRosa
, utility
Carlos Beltran
, OF
Pat Burrell
, OF
Cody Ross
, OF
Guillermo Mota
, RP
Jeremy Affeldt
, RP ($5 million club option)
Javier Lopez
, RP
OFFSEASON FOCUS
Put Brandon Belt in the lineup and leave him there. The 23 year old has torn up the minors (.343 with a 1.052 OPS in his minor-league career) and all talent evaluators love his bat. He didn't hit well with spotty playing time in the bigs in 2011, so just leave him in the lineup.
Lock up Tim Lincecum and Matt Cain long term. Yes, the offense is lacking, but the reason the Giants won last year and were in contention this season was the pitching. You can't risk losing that. I would hold off on Ryan Vogelsong, though. He was good in 2011, but it very well could have been a fluke. He has one more year before hitting free agency, so the Giants can take a wait-and-see approach.
Keep Carlos Beltran, if possible. The Giants can't afford to go long-term here or pay a ton for Beltran, but if they can get him at a reasonable price for two years with a club option for a third, he's needed. He hit .323/.369/.551 down the stretch for the Giants and is a good part of the middle of the order along with Posey and Sandoval. That would give the Giants a Belt, Andres Torres and Beltran outfield with Nate Schierholtz as the fourth guy. While we're here, let's point out that they need a much better season from Torres in 2012.
Is there enough money to get Jose Reyes? That's a tough call. The Barry Zito contract albatross is still affecting how much the team can spend. They do have money coming off the books (close to $15 million), but there are arbitration raises coming for a few guys and, of course, Cain and Lincecum need to be dealt with. Not to mention re-upping with Beltran, if they so choose. Reyes is certainly a tall order, but if they can backload some deals and increase payroll -- after a record-breaking attendance season -- it's entirely possible. If not Reyes, the Giants could go after Jimmy Rollins. Then they can use Brandon Crawford as a backup at both shortstop and second -- with him maybe even supplanting Freddy Sanchez and Jeff Keppinger at second, eventually. A lineup that looks like this might be productive enough to take back the West: Reyes, Torres, Sandoval, Posey, Beltran, Belt, Huff, Sanchez/Crawford/Keppinger. (For the record, I don't think they can afford both Beltran and Reyes, but you never know. It's worth a try).
Grabbing Beltran and Reyes would mean, however, that the Giants have exhausted all possibilities of free agency, so everything else would have to be done internally. The only real hole would seem to be the void left by Lopez and Affeldt, as they need a late-innings lefty. Here, general manager Brian Sabean should finally trade Jonathan Sanchez to shore up the left-handed side of his bullpen and attempt to scrape by with Zito in the rotation, using Dan Runzler or Eric Surkamp as a backup plan. In 2010, Zito gave the Giants 199 1/3 innings with a 4.15 ERA. That isn't horrible for a fifth starter.
For more baseball news, rumors and analysis, follow @EyeOnBaseball on Twitter or subscribe to the RSS feed.