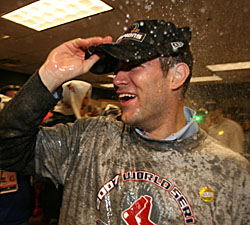 By Matt Snyder
In light of the recent movement that Theo Epstein is very close to becoming the general manager (or more) for the Chicago
Cubs
, let's try to balance things out a bit.
The amount of blame being placed on Epstein for bad contracts and recent failure in Boston is deafening if you look at our CBSSports.com message boards, Twitter and elsewhere on the web. That's what happens when there is an open forum, and it's fine. All opinions are encouraged here and when the
Red Sox
collapsed like they did in September, it's only natural that the GM has to shoulder a large portion of the blame.
But all the hate and concentration on the failures is completely ignoring the good he did at Boston. So, just in case you've all forgotten, here are the good things he did in Boston:
• In terms of player development, the following current Red Sox were drafted and developed on Epstein's watch:
Dustin Pedroia
,
Jacoby Ellsbury
,
Jonathan Papelbon
,
Clay Buchholz
and
Daniel Bard
.
Kevin Youkilis
and
Jon Lester
were in the low levels of the minors when Epstein took over. So by no means did the Red Sox of the past decade only "spend" to win. They developed stars internally, too.
• Yes, the Red Sox traded
Hanley Ramirez
to get
Josh Beckett
. But do the Red Sox win it all in 2007 without Beckett? Nope. And don't forget, Mike Lowell came to the Red Sox in that trade, too. And if you want to blame Epstein for trading Ramirez, you can't. He was on hiatus at the time.
• Epstein traded for Curt Schilling after the 2003 season. There is no way Boston wins it all in '04 without Schilling anchoring the rotation.
• Epstein picked up
David Ortiz
and Kevin Millar off the scrap heap. Things seemed to work out well after both of those signings.
• Epstein had the stones to deal All-Star shortstop Nomar Garciaparra in 2004 -- coincidentally to the Cubs -- replacing him with
Orlando Cabrera
and shoring up the defense with
Doug Mientkiewicz
at first base. The Red Sox would go on to win the World Series that season.
• Prior to 2004, the Red Sox were going with a closer-by-committee approach. Epstein scrapped that and signed Keith Foulke, who recorded 32 saves, a 2.13 ERA and the final out of the World Series in 2004.
• Time will tell if Epstein won the
Adrian Gonzalez
trade, but he gave up two 21-year-old prospects and a throw-in to acquire an elite first baseman on a team ready to compete now. That's a no-brainer. You have guys who might be great or might not pan out versus a player who is already great.
• In nine seasons in Boston, Epstein's Red Sox went to the playoffs six times -- coming from the best division in the majors -- and won the World Series twice. Boston had won the World Series zero times since 1918 before he took the job. Even if you want to ignore everything above, I don't know how you can look at the track record in this bullet point and act like he's not a good general manager.
Add it all up, and he's nothing less than a winner. Painting a picture otherwise is ignoring the whole story.
For more baseball news, rumors and analysis, follow @EyeOnBaseball on Twitter or subscribe to the RSS feed.