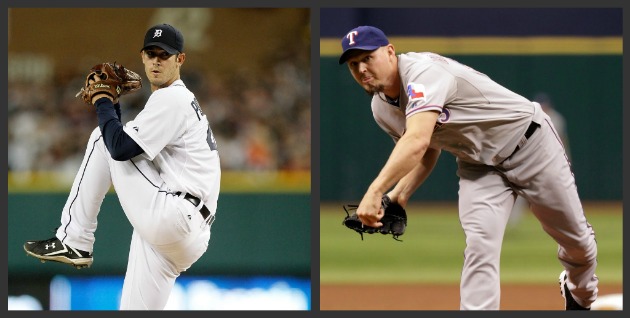 By Evan Brunell

UPDATE
: The start of Game 4 has been pushed back due to rain.
Click here for more information
.
DETROIT --
Rangers
at
Tigers
, 4:19 p.m. ET, October 12, Comerica Park
The Tigers finally broke out at home, riding three solo home runs and
(finally)
an extra-base hit with runners ins coring position to victory, narrowing the ALCS series to 2-1. Given the victory, Detroit won't need to field questions on whether
Justin Verlander
should start in Game 4, leaving the eventual AL Cy Young Award winner to start Game 5. Texas still has the edge in the series, but suddenly this is a series worth watching.
WHO HAS THE EDGE?
While the Rangers obviously have the edge in the series so far, things could change on a dime Wednesday given the Tigers' success against
Matt Harrison
the last few years. Most notably, Ryan Raburn is an insane 8-for-12 off of Harrison with two homers.
Brandon Inge
,
Miguel Cabrera
and
Austin Jackson
also have succeeded against Harrison extensively, so if there was a game for Detroit to win, it's this one.
Texas isn't as familiar with Detroit's
Rick Porcello
, but
Michael Young
and
David Murphy
have all experienced success against the sinkerballer, while
Nelson Cruz
, Adrian Beltre and Mike Napoli all have just one hit against Porcello -- but all three have walked to the plate just seven times against Porcello, which isn't much to draw from as far as evaluating which players could give Porcello a hurting.
With the absence of
Magglio Ordonez
and possibly
Delmon Young
(who sat out Games 1 and 3 with injury), the Tigers' offense is pretty weak -- and don't forget about Victor Martinez coming up lame during his home run, possibly straining his oblique. Combine that with defense that is far from excellent (unlike Texas), and you have a convincing case for Texas to take a 3-1 series lead.
Rangers' Matt Harrison: It seems like such a long time ago, but Harrison is fresh off striking out nine Rays in Game 5 of the ALDS. While the amount of whiffs he sustained forced him out of the game after five innings, it was still an incredible performance for Harrison, and he'll look to send Texas to within one game of the Fall Classic in Game 4.
Harrison will be going on a full seven days' rest, which is a lot. He's thrown two side sessions and also tossed in the bullpen during Game 1 just in case he was needed thanks to the rain outs, so his arm should be fine. His performance against the Tigers might be a different story, as he gave up eight runs (one unearned) in two starts against Detroit this season, lasting just 12 innings. Add in three stints against the Tigers last season, coughing up eight runs in 10 1/3 innings, and one has to wonder just how effective the lefty can be.
"You just have to be aggressive against these guys," Harrison said, noting how Scott Feldman kept the ball down the zone and went after hitters, holding Detroit scoreless for 4 1/3 innings in relief of Derek Holland during Game 3. "Try to limit the mistakes, keep the ball in the corners."
Tigers' Rick Porcello: Leyland was adamant that Porcello would start Game 4, win or lose. Well, here we are, and Leyland's getting his wish.
Hey, Porcello has the ability to one day be fronting Detroit's rotation, but that time simply isn't now and it's hard to get optimistic about a righty who made 31 starts, tossed 181 innings and struck out 104 while walking 46. There's a reason Porcello was the No. 4 starter all season long and if Brad Penny had bothered to produce, he wouldn't even be starting in the postseason. The one benefit to Porcello is he induces grounders at a pretty good clip, but the defense has to be there behind him to make the plays. Given the Tigers' defense isn't exactly elite caliber, that doesn't work in his favor.
The 22-year-old will be making his second appearance of the ALCS after throwing 22 pitches in relief in Game 1, but he says he is fully prepared to go.
"I feel good. My arm feels fresh," Porcello said. I feel like the ball is coming out of my hand better now than it was earlier in the year. I'll be ready to go, and physically everything will be there."
Advanced pitching metrics do like Porcello, giving him a fielding-independent 4.02 ERA, so he could bust out with a start that clinches a return to Texas.
LINEUPS


NOTES
Since Comerica Park opened in 2000, Texas has the worst winning percentage at the park of any team, going just 23-35, including Tuesday's Game 2 loss. It's even worse since Washington took over as Texas' manager, as the club has combined to go 7-18.
Miguel Cabrera extended his ALCS hitting streak to 10, which is third-longest to start a career. The all-time record is 13 straight, set by Greg Luzinski from the 1976-1980 ALCS, playing for Philadelphia. Orlando Cabrera is the last player to collect at least one hit in 10 straight games, accomplishing the feat from 2004 with the Red Sox through 2005 with the Angels.
Flamethrower Joel Zumaya, the oft-injured Tigers reliever whose 2011 season ended before it began, was in town to take in the ALCS. Zumaya has been working out at Detroit's spring-training home all season and this is his first time back in Detroit since last season. He will be a free agent and hopes to stay with Detroit. "I started here and I wish I could end here," he said.
For more baseball news, rumors and analysis, follow @EyeonBaseball on Twitter or subscribe to the RSS feed.