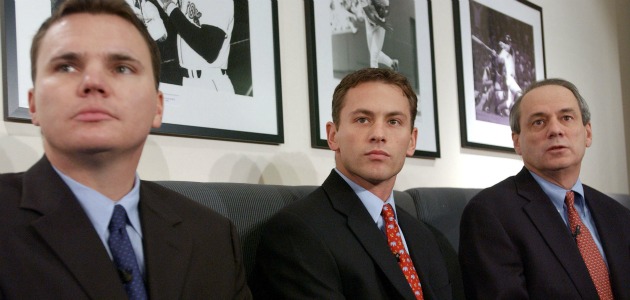 By Evan Brunell
A report has revealed that Red Sox GM Theo Epstein is expected to join the Cubs as GM by Oct. 13. While roadblocks still remain, such as what type of compensation the Red Sox will receive for letting Epstein out of his contract, it's time to take a look ahead at who could potentially step into Epstein's large shoes in Boston.

With Epstein's departure, you can certainly bet on team president Larry Lucchino gaining more power in baseball operations after losing it due to a much-publicized clash with Epstein in October 2005 that briefly saw the GM leave his position as Red Sox GM. In Epstein's absence back in 2005, Lucchino tabbed assistant GMs Ben Cherington and Jed Hoyer as co-GMs in Epstein's stead, and Lucchino needs to make a similar move this time around. (Photo: Cherington, Hoyer, Lucchino from left to right in 2005.)

There are really only two clear candidates for the GM job internally -- that being Cherington and assistant to the GM Allard Baird, who formerly ran the ship in Kansas City. Boston needs to stay internal because the internal processes Epstein set up are the reason why the Red Sox have become a powerhouse and a player-development machine. That was the strength of Epstein, thanks to his hours of experience in player development and maximizing resources in San Diego. What Epstein pulled off top-to-bottom in the organization can not only not be ignored, but must be carried through. Who better than Cherington or Baird to see that process through?

Cherington actually precedes Epstein in Boston, hired by the Red Sox in 1999 by then-GM Dan Duquette after serving as an advance scout for the Indians. Throughout his time in Boston, Cherington has gained a reputation for being similar to Epstein in that he understands and embraces the value of statistical analysis, but also realizes the value of scouts -- one would certainly hope so given his background in that area.
Cherington spoke more about the blend of stats and scouting earlier this season to
MLB Trade Rumors
:
You can blend appropriately information from those two extremes. Depending on the player and the circumstances, you may lean more on one than the other. Obviously if you're evaluating a 16-year-old in the Dominican, you don't have a lot of hard performance history, so you're going to rely more on subjective evaluation.

As you get closer to the big leagues, the more performance history you have and the more you can incorporate that into the projection for the player. And you factor in other information like their health, contract situation, etc.

That's what Theo strove for from the very get-go. From the day he took the general manager's job, he did not want the Red Sox to be a quantitative-driven baseball ops department, he didn't want it to be a subjective, traditional scouting-driven baseball operations department, he wanted to do both.
However, Lucchino may prefer a GM who doesn't consider Epstein his "mentor," given the clashes Epstein and Lucchino had. When Epstein resigned back in 2005, Lucchino seemed eager to interview
Jim Beattie
for the opening, a former failed Expos and
Orioles
GM that hasn't gotten any whispers of returning to a GM job since. That doesn't make one terribly optimistic about Lucchino's ability to judge a viable GM moving forward, but Baird may provide the perfect blend for Lucchino.
Baird, 12 years Epstein's senior, was also a failed GM like Beattie in Kansas City, but many in the game don't hold it against him as it has since come to light that he was handcuffed by owner David Glass in many of his errors. Some of Baird's notable disasters in K.C. include trading away
Johnny Damon
,
Carlos Beltran
and Jermaine Dye for minimal return. But since being with the Sox, he's worn many hats and has been one of Epstein's most trusted confidantes.
Unlike Boston's managerial search, which could benefit from an outside voice, Boston needs to stay internal with the GM search. While Epstein may not have fared well lately in Boston, he set up the right model and has the right people in place to sustain a winning atmosphere in Boston.
For more baseball news, rumors and analysis, follow @EyeonBaseball on Twitter or subscribe to the RSS feed.