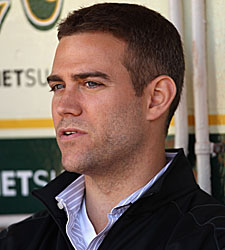 By Matt Snyder
Red Sox
general manager Theo Epstein is ready to leave Boston to run the Chicago
Cubs
,
according to the Boston Herald
. The report says that an announcement is expected to be made within the next "24-48 hours," but that it's pending a few possible roadblocks. First of all, the Red Sox still have Epstein under contract through next season and are reportedly hoping to retain him. Second, if the Red Sox do allow Epstein to take the job, they reportedly will want something back for Epstein (like a player, possibly).
The Boston Globe is reporting
the deal isn't that close, but that Epstein's "interest in the Cubs has progressed to a point where the expectation is that he will leave."
Epstein, 37, was named the Red Sox general manager after the 2002 season. Under his watch, the Red Sox won the World Series in 2004 and 2007 after previously having not won it since 1918. Epstein grew up in the Northeast and attended Yale University, so he had ties to the Boston area anyway, but recent reports have indicated he might be looking for a new challenge.
The Cubs obviously are hoping Epstein can lead them to a World Series title as well, having had a drought since 1908. It will be interesting to see what the Red Sox want in return, because if it's a player, Epstein will likely be deciding who to give up for the job he apparently wants.
Back in 2008, the Cubs had the best regular-season record in the National League, only to be swept in the NLDS by the red-hot
Dodgers
. After the loss, general manager Jim Hendry traded popular second baseman
Mark DeRosa
, let incredibly popular closer
Kerry Wood
walk in free agency and signed clubhouse cancer Milton Bradley. From there, things went progressively downhill, to the point that the Cubs finished in fifth place in the NL Central this season, behind perennial bottom feeder Pittsburgh. Hendry was relieved of his duties in July by Cubs chairman Tom Ricketts, though Hendry stayed on the job a few weeks into August.
Ricketts then conducted an extremely quiet search for a general manager, as only speculative reports surfaced about who he coveted most, but the Epstein talk has picked up within the past few weeks.
The Cubs previously
had asked the Red Sox for permission to interview Epstein
, and later a report from the Chicago area indicated a fan believes he saw and interacted with Epstein in a Chicago Starbucks. Simply, for the last several weeks there's been smoke, and we're likely to soon see the fire -- which very well could be Epstein taking over as the Cubs general manager.
For more baseball news, rumors and analysis, follow @EyeOnBaseball on Twitter or subscribe to the RSS feed.