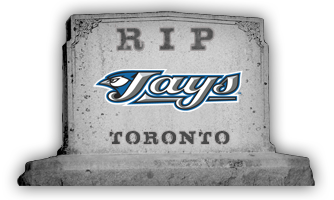 By Matt Snyder
Another season gone, another disappointment for 29 teams as one is immortalized forever. Let's take a look back at 2011 and forward in Eye on Baseball's R.I.P. series...
Team name:
Toronto
Blue Jays
Record:
81-81, 4th place in AL East, 16 games back
Manager:
John Farrell
Best hitter:
Jose Bautista
-- .302/.447/.608, 43 HR, 103 RBI, 105 R
Best pitcher:
Ricky Romero
-- 15-11, 2.92 ERA, 1.14 WHIP, 178 K, 225 IP
2011 SEASON RECAP
The Jays played .500 ball pretty much throughout the season. By month, they were one game under .500, two over, three under, four over, two under and two under, respectively. That's the very definition of an average baseball team, but there are mitigating factors. Namely, the Jays are playing in the best division in baseball, trailing the
Yankees
,
Red Sox
and
Rays
. If you removed those three teams from the schedule, the Jays went 60-48. So you can argue this is already a very good baseball team caught in the wrong division. Of course, they aren't going to be getting out of the AL East anytime soon, so there's no use in thinking about what could be.
The good news is that the 2011 Jays saw lots of reasons for optimism moving forward. The young nucleus is really strong and has the potential to get even better with lots of good talent sitting in the minors.
J.P. Arencibia
proved a solid catcher and
Brett Lawrie
is a future star. Meanwhile, Ricky Romero,
Brandon Morrow
,
Adam Lind
,
Yunel Escobar
and
Eric Thames
, among others, are all 28 years old or younger. At 30, Jose Bautista still has several years of his prime left -- and 2011 was huge for the Blue Jays as they discovered 2010 wasn't a fluke for Bautista. He's a legitimate superstar and the face of the franchise, until Lawrie surpasses him in a few years.
2012 AUDIT
They're actually set up to have a legitimate shot at the division. The Yankees are aging and have pitching questions, the Rays have monetary issues, the
Orioles
aren't close yet and who knows what happens with the Red Sox? The Blue Jays will need steps forward from young players like
Kyle Drabek
,
Brett Cecil
and either
Colby Rasmus
or Travis Snider. They also need to shore up the bullpen. The Blue Jays were ninth in the AL in bullpen ERA. Saves and blown saves are flawed stats, but 33 saves against 25 blown saves doesn't bode well in close games. Only the
Astros
had a worse save percentage in 2011. I'm not necessarily of the opinion that a team has to have one closer and always use him in save situations, because sometimes a three-run lead in the ninth doesn't need maximum protection, but each team should have one reliable guy to shut down the opposition and Toronto lacked that for most of the season.
The good news for the Blue Jays is that they are in position to increase the payroll, reportedly pretty significantly, in the next two seasons. That doesn't mean it's all happening now, but a big splash is coming.
FREE AGENTS
Jose Molina
, C
Kelly Johnson
, 2B
Edwin Encarnacion
, 3B/DH ($3.5 million club option)
Shawn Camp
, RP
Frank Francisco
, RP
Jon Rauch
, RP ($3.75 million club option)
OFFSEASON FOCUS
It's folly to spend big money on late-inning relievers for the most part. Mariano Rivera is a rare case. Most closers have a short shelf life. Thus, let Casey Janssen be the guy. He had a good season (2.26 ERA, 1.10 WHIP, 8.6 K/9) in 2011 and it's possible he sticks. In front of him, though, the Blue Jays need more. Jesse Litsch has the chance to develop into a good setup man and Joel Carreno showed great promise. If the Blue Jays still see a need to dip outside the organization here, Michael Wuertz and Chad Qualls could work if their respective options aren't picked up. Juan Cruz wasn't great in 2011, but he has good enough stuff to be an option as well. Maybe sign one veteran and plug the rest of the holes from within. It wouldn't be shocking to see the Blue Jays a major player for someone like Heath Bell, it just seems like their money would be best spent elsewhere (we'll get to that).
Keep an eye on Adeiny Hechavarria. The 22-year-old shortstop hit .389/.431/.537 in 25 Triple-A games in 2011 after promotion. Whenever he's ready, Yunel Escobar could be traded for more bullpen depth.
By the same token, keep an eye on Travis D'Arnaud. The catching prospect hit .311 with 21 home runs and a .914 OPS in Double-A this season. The Blue Jays need to decide if they want Arencibia or d'Arnaud and eventually trade the other.
There's no need to make a big splash with starting pitching just yet. Romero is a clear ace, albeit an underrated one. Morrow is firmly planted in the rotation and Drabek will improve. The rotation can be filled out behind the three for now with some combination of Cecil, Henderson Alvarez and Dustin McGowan. Waiting in the wings are promising prospects Deck McGuire, Drew Hutchinson and Nestor Molina. With the starting pitching free agent class this season a bit underwhelming, the Jays can hold off another year before focusing on how to shore up the rotation -- and by then, maybe everyone pans out and they don't need to. But if they do, next season's free agent class could include the likes of Cole Hamels, Matt Cain, Zack Greinke, Shaun Marcum and James Shields.
Let Encarnacion walk, go with Lind at DH and pursue Prince Fielder. I've said a lot of teams should pursue Fielder in these R.I.P.s, and that's because a lot of teams should pursue him. The Prince sweepstakes are wide open, as there are no real favorites. The Yankees, Mets, Red Sox and Dodgers are likely out for various reasons. And who knows the Cubs' direction. That leaves the possibility open for teams like the Orioles, Nationals and Blue Jays to make a serious run. Can you imagine this Blue Jays offense with Bautista, Fielder and Lawrie together for the foreseeable future? The Blue Jays are really close to seriously competing in the AL East. They are a sleeping giant with tons of young talent on the rise and are ready to start spending some money. This signing would announce their presence with authority to the rest of baseball and take a huge step toward bringing a World Series title back to Canada.
For more baseball news, rumors and analysis, follow @EyeOnBaseball on Twitter or subscribe to the RSS feed.