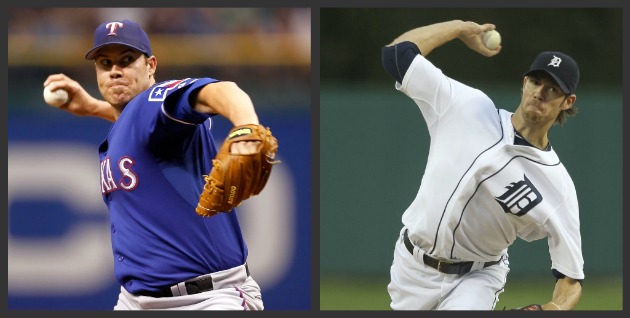 By Evan Brunell

Rangers
at
Tigers
, 8:05 p.m. ET, October 11, Rangers Ballpark
ARLINGTON, Texas -- The Rangers shocked the Tigers with a walkoff grand slam, the first in postseason history. Obviously, Texas is on a roll and riding momentum with a 2-0 series lead, but no one should expect Detroit to just roll over and play dead. A 2-0 series lead is imposing, but not insurmountable. And now that the series is shifting to Comerica Park, the Tigers will have something they haven't had yet in the ALCS -- last ups.
"It can't change the approach for the pitcher at all," Tigers starting pitcher Fister said of the pressure facing him. "It doesn't change the mindset, it doesn't change how you attack hitters."
Let's be honest -- it's going to be tough for the Tigers to bounce back from this. It's not as if they can point to a major gaffe, or to a bad day by a player. Detroit played hard and was in every game until virtually the last out. And yet, the ball hasn't bounced their way... twice. Mentally, that has to take a toll. It will be interesting to see how the game unfolds.

WHO HAS THE EDGE?

The Rangers are obviously riding the momentum and get to offer up
Colby Lewis
in Game 3 in a prime opportunity to take a stranglehold in the ALCS. But the Tigers counter with
Doug Fister
, who threw up a 1.79 ERA in 10 starts and one relief appearance for the Tigers after coming over from Seattle.
It'll be a hard-fought battle, and the Tigers will look for Fister to hold the Texas offense in check.
Nelson Cruz
, who struggled through September and the ALDS before exploding in the ALCS and taking pole position in the series MVP department, has seven hits in 14 at-bats against Fister.
David Murphy
has also experienced success, but for the most part, Ranger hitters struggle against the righty, led by
Ian Kinsler
,
Michael Young
and
Elvis Andrus
.
On the flip side, the Tigers have hit Lewis well (more on this below).
Alex Avila
has two home runs and will look to bust out of his slump at just the right time for Detroit, while both
Austin Jackson
and
Miguel Cabrera
have combined to collect 11 hits in 27 at-bats. Fortunately for Lewis, the game is being played at Comerica Park, which has a spacious outfield and should play right into Lewis' hands as a flyball pitcher, especially with left-center field preventing righties from launching home runs.
The pitching matchup is as even as it can get, but the Rangers' offense has been more impressive in the early going and is riding a ton of momentum, so the edge has to be given to Texas.
Rangers' Colby Lewis: Lewis hasn't had much success with the Tigers this season, getting rocked for 13 earned runs over two starts totaling just 7 1/3 innings, but that doesn't faze the right-hander staring at a 2-0 series lead.
"You don't really worry about anything in the past," Lewis said. "Once it's over, it's done with, you just walk in the dugout and forgetabout it and move forward." Lewis also noted that he was successful last season against the Tigers, but that's not entirely true. In three starts, Lewis has a 4.66 ERA. That's a massive improvement over his performance in 2011 against the Tigers, but it doesn't exactly inspire confidence.
What does is Lewis' impeccable postseason record. Since returning from Japan and joining the Rangers in 2010, Lewis has a 1.65 ERA in five starts, including holding the
Yankees
to one run in six innings during his Game 3 ALCS start. Now, Lewis is a grizzled veteran and ready to halt Detroit's start to the ALCS.
"The more you do it, the more you go out there [in the playoffs], the more you understand what it takes to perform and be on that stage," he said.
Tigers' Doug Fister: As mentioned, Fister has been a revelation since arriving in Detroit. However, no one truly believes he's as good as he's displayed in a Tigers uniform and he was lucky enough to face weak opponents down the stretch. He struggled in the ALDS against the Yankees giving up seven runs in 9 2/3 innings.
But he's home now, in Comerica Field, where he's spun a dazzling 1.61 ERA over the 2011 season. Fister credits the Detroit crowd with getting him ready for the game. "We sit back, we watch everybody standing on their feet waving the white towels. It's something that gives you chills to be a part of," Fister said.
Fister has seen the Rangers twice this season, one apiece as a Mariner and Tiger and has held them in check for six runs in 14 1/3 innings, but he's only struck out just one batter, so he'll need his defense active behind him. The way he's performed so far, the defense will be more than happy to pick up the slack.
"I would be lying if I said we thought he would be this good," manager Jim Leyland said. "He doesn't seem to be rattled. He's aggressive. He's a fierce competitor."
All qualities that need to be displayed on Tuesday night if the Tigers don't want to dig themselves a hole that only one baseball team has ever come back from.
LINEUPS
Note:
Delmon Young
was originally slated to hit third, but he's been scratched from the lineup due to his injury flaring up.
NOTES
Elvis Andrus had a strong game for the Rangers, going 1-for-4 with two walks. He also made a pivotal catch late in the game that prevented a Tigers run. Overall, a good game for someone who hadn't been swinging the bat well and whose defense suffered earlier in the year. "He unseated a Gold Glover at shortstop as a 20-year-old," Washington said. "Twenty-one years old, he was in the World Series. When you're that young and you're that successful, sometimes you take things for granted. The thing about this game of baseball, it will humble you. He got a wake-up call with the way he was playing defense. His teammates let him know that the way he was doing it was unacceptable and he got refocused."
Tigers closer Jose Valverde went two innings, the first time this season he's gone more than one inning. Nice to see Leyland relying on Valverde more in October -- as he should be -- instead of allowing the soft underbelly of middle relief to get burned. (Well, technically it did, but not until the 11th inning, and you can't help it at that point.)
Not having to worry about weather will be nice, and it looks like a nice night in Detroit. The temperature should be in the mid-60s at night with minimal chance of rain. A game will be getting in tonight. Wednesday, similarly, should be fine, but Game 5 on Thursday could be problematic.
For more baseball news, rumors and analysis, follow @EyeonBaseball on Twitter or subscribe to the RSS feed.