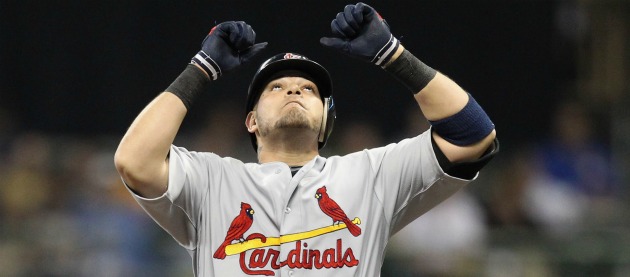 By C. Trent Rosecrans
MILWAUKEE -- If you listen to the participants, the
Cardinals
openly mocking the
Brewers
and their celebrations -- just like the pre-series hostilities -- didn't happen, and is but a creation of the media. Yeah right.
The Cardinals usually play the businesslike, button-down style that's preached by manager Tony La Russa, who loves to quote the unwritten rules of baseball conduct and pass down judgements on anyone who dares do anything he sees as a transgression. The reason there was so much pre-series focus on the Brewers' over-the-top celebrations and exuberance was the dichotomy between that and how St. Louis has liked to portray itself during La Russa's long tenure. It's baseball city, with baseball played with class and all that other jargon. But it wasn't like that in Monday's Game 2 12-3 mauling of the Brewers at Miller Park.
From Albert Pujols' long stare and bat flip in the first inning (which, to be fair is far from out of the ordinary), to Yadier Molina's apparent "cry baby" motions after his seventh-inning single, the Cardinals bench ate it up and responded in kind. Was it a message?
"No, we were just having fun," Molina said. "It was nothing special. It's something personal."
Personal? Toward the Brewers, he was asked?
"No, no, no," Molina said. "We're trying to win games."
Prince Fielder, who brought the team "best mode" via his kids, and Nyjer Morgan, the team's chief instigator, both denied take offense or even noticing the Cardinals' Game 2 actions.
"No, man. No man, Nah. No," said Morgan, who like Molina seem to protest a little too much. "I guess they've got some emotion now, so be it. What do you want me to say?"
Said Fielder: "No. I really don't care, I'm trying to celebrate with my team. I would hope they're excited, it's the playoffs. I don't try to look into all that, I just try to play these games and as a team do what we do."
The Brewers may not have invented the call-and-response from the basepaths to the dugout, they've certainly embraced it -- doing their "beast mode" after every double or dribbler, every bunt or bomb. It clearly caught the attention of the Cardinals, especially in Game 1 when Ryan Braun and Fielder both hit impressive homers that fired up teammates and fans alike.
There's no doubt it can rankle other teams, rubbing those who take "acting like you've been there before" or the baseball codes or whatever very seriously (and of course, nobody does that more than the Cardinals). But to deny it, well, that's just telling us the sky is green or that Milwaukee's Best is really that or that when the offseason comes around, these two teams are going to get together in a nice drum circle and talk about the good times past. No, these teams don't like each other, and even a couple of denials can do nothing to camouflage that.
There was joy in the Cardinals actions, no doubt. It was actually refreshing to see it for once, to break that stoic facade. But make no mistake, there was also rancor and spite. No matter what anyone said. But hey, that -- plus some pretty good baseball -- keeps this series interesting, all the way to the end.
For more baseball news, rumors and analysis, follow @cbssportsmlb on Twitter or subscribe to the RSS feed.