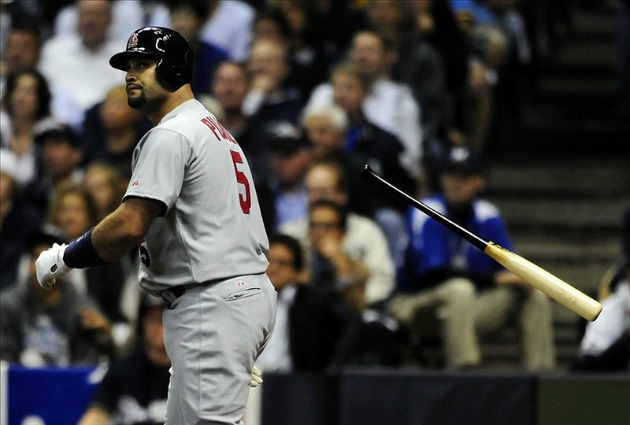 By C. Trent Rosecrans
MILWAUKEE -- Albert Pujols didn't seem to be in the best of moods after Game 1 of the NLCS on Sunday, dismissing question after question about the Brewers' victory. He got even more testy when some asked him if he was close to a "blow out" or a big game in Game 2.
He asked the questioner what he would write if it happened -- "that you made adjustments," Derrick Goold of the St. Louis Post-Dispatch responded.
"I'm pretty good at it," Pujols shot back.
He is indeed.
Pujols gave St. Louis an early 2-0 lead in Game 2 of the NLCS with a long homer to left off of Brewers starter Shaun Marcum. Pujols blasted Marcum's 1-2 pitch into the seats, stood and admired his shot for a good second or two and then flipped his bat away -- it wasn't the imitation of something from a kid's movie like the Brewers' "beast mode," it was more serious and done with much more venom. It looked like an act of defiance to anyone who thought Milwaukee would be the only team bashing at Miller Park.
It was Pujols' first postseason home run since Game 1 of the 2006 World Series when he took a 23-year-old Justin Verlander deep. In the 46 at-bats since, he'd been held homerless, spanning the rest of that World Series, the 2009 NLDS and the 2011 NLDS. In his career during the regular season, Pujols had hit a homer for approximately every 14.2 at-bats. His postseason mark is a homer for every 16 at-bats.
It was Pujols' 14th postseason home run, coming in 14 series.

Follow the game live on CBSSports.com's GameTracker.
For more baseball news, rumors and analysis, follow @cbssportsmlb on Twitter or subscribe to the RSS feed.