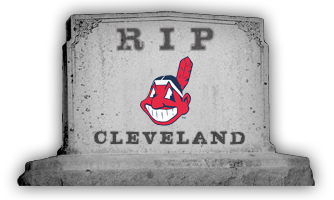 By Matt Snyder
Another season gone, another disappointment for 29 teams as one is immortalized forever. Let's take a look back at 2011 and forward in Eye on Baseball's R.I.P. series...
Team name:
Cleveland
Indians
Record:
80-82, second place in AL Central, 15 games back
Manager:
Manny Acta
Best hitter:
Asdrubal Cabrera
-- .273/.332/.460, 25 HR, 92 RBI, 87 R, 17 SB
Best pitcher:
Justin Masterson
-- 12-10, 3.21 ERA, 1.28 WHIP, 158 K, 216 IP
2011 SEASON RECAP
Winning 80 games, finishing second in the AL Central and seeing the growth of several promising young players would have almost certainly sounded like a great goal to begin the season, after the Indians lost 93 games in 2010. But the way it all went down meant that the season ended up feeling like a punch to the gut. On May 23, the Indians won to give them a 30-15 record and a seven-game lead in the Central. They were even tied for first as late as July 20 and climbed to within 1.5 games in mid-August, but then the
Tigers
got hot and the Indians just couldn't keep up.
Still, the Indians saw great things from many young players, which provides hope for the future.
Carlos Santana
,
Jason Kipnis
,
Lonnie Chisenhall
, Asdrubal Cabrera, Justin Masterson,
Chris Perez
,
Joe Smith
and
Vinnie Pestano
are absolutely a part of the solution in Cleveland.
2012 AUDIT
The Indians look to bring back a very similar ballclub to the one that finished the 2011 season. Full, healthy seasons from both
Grady Sizemore
and
Shin-Soo Choo
along with progress from many of the young players in house would help the Indians compete in the AL Central. According to most evaluation resources, the upper levels of the minors doesn't have much more help coming for the Indians -- because we saw all of the top prospects this season. Oh, and traded away the top two pitching prospects for
Ubaldo Jimenez
.
FREE AGENTS
Jim Thome
, DH
Kosuke Fukudome
, OF
Grady Sizemore, OF (club option for $8.5 million)
Fausto Carmona
, SP (club option for $7 million)
Chad Durbin
, RP
OFFSEASON FOCUS
This may be unpopular, but I'd pick up Sizemore's option. He's still 29 and if his surgery last week fixed all the issues with his knee, it's entirely possible he returns to previous form -- which is an All-Star center fielder. Plus, having Sizemore around opens up a lot of options. If the Indians decide midseason to trade him, he could net a good return, assuming he's healthy. Michael Brantley could then slide over to center. But if Sizemore does return to All-Star form, they'll have a shot at locking him up as the veteran centerpiece of their young nucleus -- many of whom won't be free agents for four or five years.
A decision has to be made at first base. Do they give Matt LaPorta one more season to see if he finally sticks? He's only 26. He also hasn't even come close to reaching the potential that made him the main piece of the CC Sabathia trade. Another option would be to move slugging catcher Carlos Santana to first for good, making Lou Marson the everyday catcher. A final option is to pursue a cheap first baseman on the free agency market (Casey Kotchman would work) or trade for one. If the Dodgers decide to trade James Loney, he'd be a nice fit. Kotchman seems like a pretty good direction, as he'd be affordable and maybe even could be had on a one-year deal. LaPorta can serve as a backup and if he all of a sudden turns the corner, there's a spot waiting for him.
Invent a time machine, go back to late July and don't make the Ubaldo Jimenez trade. I kid, but man, Alex White and Drew Pomeranz would fit so perfectly with the direction of this team. Jimenez has been absolutely mediocre for the past season and a half. But what's done is done and the Indians have to hope he reverts back to the form he had when he started 2010 11-1 with a 0.93 ERA.
Mostly, these Indians need to stay the course. The youthful foundation is growing up together. Kipnis and Chisenhall have joined Santana, Cabrera, Masterson and the "Bullpen Mafia" as a strong core of players all still in their 20s and only scratching the surface of how good they can be. The 2012 season will provide answers to some questions (Sizemore, Carmona, how good some of the young players can be, LaPorta, etc.) to provide a better road map as to how the 2013 season will look. All the top prospects have either been promoted or traded, so what you see at the big-league level is what you get for the next few years. If everything falls into place, the Indians contend for the next three seasons. If injuries continue to derail Choo and Sizemore while several of the young players don't pan out, it's going to be a long next three seasons. Time will tell, but they need to see what they have.
For more baseball news, rumors and analysis, follow @EyeOnBaseball on Twitter or subscribe to the RSS feed.