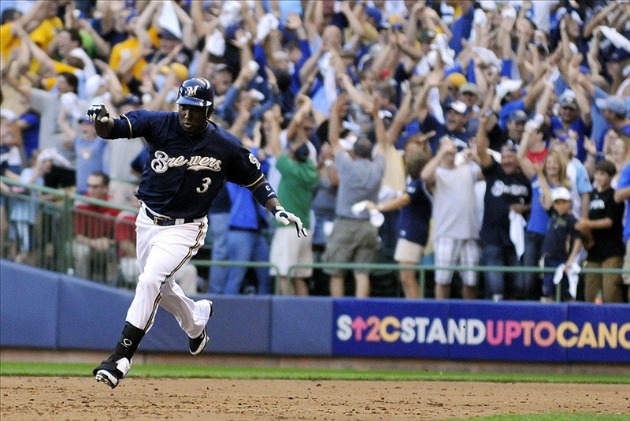 By C. Trent Rosecrans
MILWAUKEE -- Prince Fielder's fifth-inning homer had people at Miller Park buzzing -- both during the game and after. Fielder's homer was measured at 119.2 mph off his bat, according to ESPN's Home Run Tracker, making it the fastest ball off a bat this season.
But that's not all they were talking about at the stadium following Milwaukee's 9-6 victory in Game 1, here's more:
• Ryan Braun on Fielder's homer: "That was one of the hardest hit balls I've ever seen. I'm always worried when I'm on first base and Princeis up that he's going to top spin one at me. I had a good view of it. It got out in a hurry."
• Yuniesky Betancourt (above) on the criticism he get: "I don't really understand English very well, so that being said, I don't really pay attention to what the critics say. Since I don't understand, I don't get mad. I just try and do my job."
• Albert Pujols on fouling off a pitch in the seventh before grounding into a double play: "I had a good pitch, but I just missed it -- seven out of 10 times, I put it in the seats. That's baseball, next time I get that opportunity, hopefully I'll come through."
• Zack Greinke on the Brewers' 17-0 record when he starts at Miller Park: "I don't know. We've got a good record. I answer this question after every start -- and before every start. We feel like we're going to win."
• Jonathan Lucroy on Greinke: "I think the key with Zack, as it was with his last start, he kept us close. Not letting the game get out of hand. ... He's very strong. He's very stoic. He's not Cy Young out there [right now]. He's going to execute, and he's going to make mistakes like all pitchers do."
• Tony La Russa on leaving Garcia in to face Braun and Fielder: "The guy is cruising -- there's a ground ball, he makes one mistake. How many hits does he have at that point? I mean, maybe (he should have pulled Garcia), because that's strategy. But no, he was not ready (to be taken out). Only when I saw him throw a ball down the middle to Braun, I said that's enough. And he tried to make a pitch to Fielder and it's a two-run homer. No, I wouldn't have made move to (face) Braun. I He was throwing the ball better than that. He made one mistake. It's a tough league, but it's not that tough."
• Braun on the Cardinals keeping Garcia in: "I thought Garcia was really cruising and throwing the ball well. I think the first inning he obviously didn't have great command. After that, I thought he was really throwing well. We had a couple of great at-bats by Corey (Hart) and Jerry (Hairston), and Prince and I each swung at the first pitch. I don't think he had an opportunity to really come in the game."

• Ron Roenicke on the Miller Park crowd: "I don't even know if I heard the ball come off Prince's bat. I knew it was a good swing and came off nice, but when you can't hear the ball the sound of it, because of all the people yelling -- I wasn't sure what was going to happen there until I saw the ball's flight."

• Fielder on his homer: "It felt good. I thought it might be off the wall or a double in the gap, and it kind of kept going, so that was good."

More NLCS coverage
For more baseball news, rumors and analysis, follow @cbssportsmlb on Twitter or subscribe to the RSS feed.