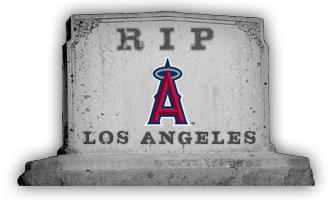 By Matt Snyder
Another season gone, another disappointment for 29 teams as one is immortalized forever. Let's take a look back at 2011 and forward in Eye on Baseball's R.I.P. series...
Team name:
Los Angeles
Angels
of Anaheim
Record:
86-76, second place in AL West, 10 games back.
Manager:
Mike Scioscia
Best hitter:
Howard Kendrick
-- .285/.338/.464, 18 HR, 63 RBI, 86 R, 14 SB, 30 2B
Best pitcher:
Jered Weaver
-- 18-8, 2.41 ERA, 1.01 WHIP, 198 K, 235.2 IP
2011 SEASON RECAP
The Angels hung in the race all season, eventually missing out on the AL wild card by five games. They were in first place as late as July 5, and didn't really fall out of the AL West race until the middle of September. They exceeded the expectations, according to many preseason predictions, but the failure to make the postseason for the second year in a row was evidently not acceptable for owner Arte Moreno. He absolutely cleaned house in the front office. The Angels did win the AL West five out of six seasons before 2010, so the bar has been set. Moreno seemingly wants division titles or else.
2012 AUDIT
The Angles already have over $102 million committed to next season in player contracts, and that's without including the salaries of arbitration players like Howie Kendrick,
Erick Aybar
and
Alberto Callaspo
, who are certainly going to have raises. Basically, the Angles are going to have somewhere around $125 million in payroll before even looking at possible free agents. Thus, if they want to make a big splash, the new general manager, whoever it is, will probably have to back-load contracts. The more likely path is to look for internal improvement from the young players like
Tyler Chatwood
,
Jordan Walden
,
Mark Trumbo
and uber-prospect
Mike Trout
. Getting
Kendrys Morales
back healthy would be a huge boost as well. The Angels do have a strong minor-league system, but most of the help is a few years away.
FREE AGENTS
Russell Branyan
, 1B
Joel Pineiro
, SP
Fernando Rodney
, RP
OFFSEASON FOCUS
If any big contracts are handed out, it needs to be a younger free agent that has proven durable and consistent. Huge contracts to veterans past their prime are stifling the organization right now.
Hire a general manager who stops trying to fill short-term holes with huge salary veterans. High-salary players are OK for a large market team like the Angels, but that's seemingly been the only answer in recent seasons.
Let Trout play everyday. Torii Hunter, Peter Bourjos, Vernon Wells and Bobby Abreu can share two spots in some fashion while occasionally filling the designated hitter spot (but I have a different plan for that). The Wells trade was a disaster and Abreu makes far too much money for his current level of production, but what's done is done. You can't let salaries dictate playing time.
Keep Morales at designated hitter for the entire season. Trumbo can play first and Kendrick can fill in when Trumbo gets days off. Morales' leg injury was obviously devastating, so the Angels should do everything possible to keep his bat in the lineup. One of the offense's biggest problems was that -- while there are several really good hitters -- the lack of one big bat hurts. Trumbo hit 29 homers, but his OBP was a horrible .291. Until Trout is ready to be a superstar, and remember, he's only 20, Morales has to be "the guy" for the Angels. So protect his health.
Hank Conger is only 23 and was a good hitter in the minors. Jeff Mathis is an awful hitter, but Scioscia keeps him as the primary catcher because he's in love with his defense -- it's why the Angels traded Mike Napoli. Conger should at least get a lot more of a look behind the plate, but who knows if Scioscia will let that happen.
What money the Angels do have will probably be spent on a one-year starting pitcher. They won't be breaking the bank or anything, but they don't need a front-line ace. They have two, and Ervin Santana is a fine No. 3. Pineiro coming back would be an option. Otherwise you're looking at Jason Marquis or Jeff Francis types. At that point, it's possible the new GM just saves the money and goes with Jerome Williams again. There's no reason to spend more money on a marginal upgrade. Garrett Richards, 23, could probably use some seasoning in Triple-A, so there is only a need for one year. Maybe they start the year with Williams and keep him there until Richards is deemed ready.
Overall, it's tough to tell what's going to happen, because the entire front office has been cleaned out and there are several large -- and probably untradeable -- contracts. They may just have to tread water for a season. The good news is the low levels of the minors are stocked with good talent and the bad contracts will all be cleared in a few years. Whoever takes the GM job is walking into a situation to thrive within the next three seasons, with a combination of a strong, youthful foundation and being able to spend big dollars on free agents starting in 2012.
For more baseball news, rumors and analysis, follow @EyeOnBaseball on Twitter or subscribe to the RSS feed.