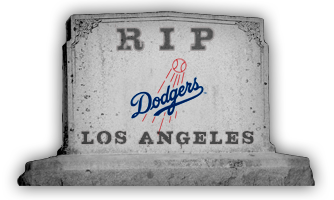 By Matt Snyder
Another season gone, another disappointment for 29 teams as one is immortalized forever. Let's take a look back at 2011 and forward in Eye on Baseball's R.I.P. series...
Team name:
Los Angeles
Dodgers
Record:
82-79, third place in NL West, 11.5 games back
Manager:
Don Mattingly
Best hitter:
Matt Kemp
-- .324/.399/.586, 39 HR, 126 RBI, 115 R, 40 SB
Best pitcher:
Clayton Kershaw
-- 21-5, 2.28 ERA, 0.98 WHIP, 248 K, 233 1/3 IP
2011 SEASON RECAP
The Dodgers were mediocre at best and pretty bad at times for most of the 2011 season, but all of a sudden, something seemed to click. After an August 21 loss, the Dodgers sat 57-69. The rest of the way, they went 25-10. Simply: For the last five weeks of the season, the Dodgers were one of the best teams in baseball. It's just that it was too late and not many noticed -- including Joe Buck, who said "a bad Dodgers team" during the ALCS telecast Saturday night.
On the field, this Dodgers season will be remembered for two reasons. More specifically, two players. Matt Kemp would have the NL MVP in the bag had his teammates played better all season. He may lose out to
Ryan Braun
, though, due to many voters believing the winner of the individual award has to come from a team that was in contention. Clayton Kershaw won the pitching triple crown (led the league in wins, ERA and strikeouts -- note: He tied
Ian Kennedy
in wins, but that still counts). He's the likely Cy Young Award winner in the NL.
Off the field, this Dodgers season has been completely and utterly marred by owner Frank McCourt. Unfortunately for the Dodgers, he's still the owner. At least as of this writing.
2012 AUDIT
Despite the strong close, the Dodgers are still in a state of limbo. There are several holes and the ownership mess makes it unknown as to how they can proceed. Fortunately, the nucleus is young and rather strong.
Kenley Jansen
and
Javy Guerra
make a strong back-end duo in the bullpen. Kershaw is an elite ace. Kemp is one of the best all-around players in baseball.
Chad Billingsley
is fickle, but he's still only 27. The youth movement showed promise for the future, too, with
Dee Gordon
,
Jerry Sands
and
Rubby De La Rosa
(who had Tommy John surgery in August) showing they can be part of the solution in L.A. On the other hand, decisions need to be made with
James Loney
,
Andre Ethier
, catcher, second base and third base.
The franchise is not set up to be a slam-dunk contender, nor is it set up for futility in the near future. If the ownership situation would get settled very soon and the Dodgers could be a major player in free agency, they'd have a great shot at winning the NL West in 2012. It's just that we don't know how long the ownership situation will linger. Even if McCourt lost the team today, however, the approval process wouldn't be complete until it was too late to make several major plays at the likes of
Prince Fielder
,
Jose Reyes
and
C.J. Wilson
.
FREE AGENTS
Rod Barajas
, C
Jamey Carroll
, 2B
Aaron Miles
, 2B
Casey Blake
, 3B (option declined)
Juan Rivera
, OF
Jon Garland
, SP (option declined)
Hiroki Kuroda
, SP
Jonathan Broxton
, RP
Mike MacDougal
, RP
Vicente Padilla
, RP
OFFSEASON FOCUS
Unfortunately for the Dodgers, they can't act like a large-market team as long as the McCourt financial stuff continues. And that won't be resolved this offseason. Still, there is significant payroll coming off the books. The general direction of the franchise should be to try and compete with the younger players while letting the aging veterans walk, but a few exceptions can be made -- because it's very realistic that the Dodgers can compete in the NL West in 2012.
They can probably make a run at Jose Reyes. His zealous personality would fit perfectly in Hollywood, just as his bat would atop the order. Gordon could be moved to second base and hit second. So the lineup would start: Reyes, Gordon, Kemp, Ethier (well, maybe, we'll get to that ... ).
Play Juan Uribe full time at third base. He's not too old to bounce back from an injury-plagued campaign.
Dangle Ethier as a trade candidate. Even when he's at his best, he's not an elite player -- yet many seem to view him as one. He's a free agent at the end of 2012 and has had several episodes of complaining about the team and then backing off the comments. I wouldn't necessarily come out and say he's gone, but instead quietly shop him. If he can be dealt for prospects, Sands and Tony Gwynn Jr. are enough to fill out the outfield for the time being, while L.A. just treads water waiting for the ownership situation to be sorted out.
Give Loney one last chance. The 27 year old was one of the best hitters in the league in the last five weeks. If it was a fluke, the Dodgers can address first base next season. If the McCourt situation was different, a run at Fielder or Albert Pujols while selling high Loney would make a lot of sense, but I just don't think they could pull that off financially at this point.
Bring Kuroda back for one more year. He wants to stay in L.A. anyway, and with De La Rosa on the shelf recovering from surgery, there's a need for a stop-gap in the rotation.
If there's any possible way to do so financially, Kemp needs a huge contract extension. He's only 27 and can anchor the franchise for a long time. He's also wildly popular, so this would at least send a message to the fans that the Dodgers are still very relevant.
For more baseball news, rumors and analysis, follow @EyeOnBaseball on Twitter or subscribe to the RSS feed.