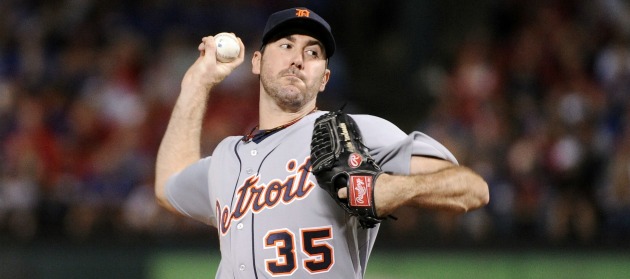 By Evan Brunell
ARLINGTON, Texas -- Two rain delays derailed Justin Verlander's start in Game 1, thereby limiting him to just 4 2/3 innings. After tossing just 82 pitches, the question naturally springs to mind: Will Verlander come back to start Game 4? Such a decision could have enormous ramifications on the series, as Verlander pitching in Game 4 would allow him to appear in Game 7, possibly as a starter and certainly as a reliever.

"We're going to go down and look at it," manager Jim Leyland said after the game. "We started to map a couple of things out during the one rain delay, but we don't have anything for you at this time.

"We're not trying to hide anything. We just haven't figured it all out."

Leyland fielded multiple questions on the topic, and started to get irritated on the third question.

"I'm trying to be patient. ... You can talk to me until you're blue in the face about the rotation. I don't have anything for you."

Leyland may not have anything, but the move to start Verlander should be obvious, especially after Porcello tossed 22 pitches in relief of Verlander. While the 22-year-old Porcello has a ton of promise and debuted at age 20 just two years after being picked in the first round, Verlander is clearly the better pitcher at this stage. He should be able to go on three days rest. How can the Tigers not make this move?

While Verlander may have been able to come out of the bullpen regardless in a potential Game 7 should he stay on track to start Game 5, giving Verlander the Game 4 assignment allows the team so much flexibility in Game 7. Maybe Verlander starts, maybe Max Scherzer (drawing the ball in Game 2) still starts and Verlander comes in relief for a few innings. And heck, Verlander drawing the ball in Game 4 would allow the club to go to a three-man rotation, eschewing Porcello and giving Scherzer the Game 5 or 6 start.

Either way, it's never a bad thing to have your best pitcher available in the final, winner-take-all, game.

For more baseball news, rumors and analysis, follow @EyeonBaseball on Twitter or subscribe to the RSS feed.