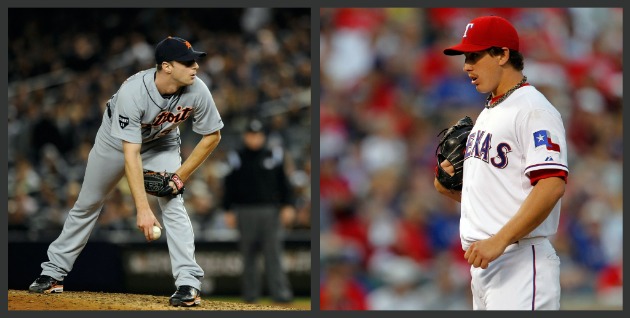 By Evan Brunell

ARLINGTON, Texas --
Tigers
at
Rangers
, 4:19 p.m. ET, October 10, Rangers Ballpark
WHO HAS THE EDGE?

Yeah, Texas won Game 1, but the Tigers still have a thin edge in Game 2. Why?
The Tigers constantly threatened to break the game wide open each of the first several innings, but could never get that big hit. Texas was able to smack
Justin Verlander
around enough that even if there was no rain delay, the right-hander was probably coming out of the game after five or six innings anyways, having allowed seven baserunners. All told, Detroit reached base 13 times compared to Texas' nine, which includes an error by
Austin Jackson
.
Then add in the pitching matchup, which you can learn more about below. Both
Max Scherzer
and
Derek Holland
are pitchers long on potential that have experienced some difficulty putting it all together. Each pitcher's respective performances in the ALDS was strong, and Holland rebounded after a shaky beginning to Game 2, but Scherzer came away more impressive in the end.

PITCHING MATCHUPS
Tigers' Max Scherzer: Going on three days rest after hurling 1 1/3 innings of one-run relief against the Yankees, Scherzer has taken to the playoffs beautifully and also blanked the Yankees for six innings in Game 2. The righty originally was supposed to start Game 4, but that would have limited him to just one start, and the team could have really used him for two. Now they get that chance.
"He convinced me yesterday. And Max, he's up front with everything. He would never mislead me in any way, shape and form," Jim Leyland said prior to Game 1 of the ALCS, being convinced in due part to Scherzer playing catch on Friday and feeling 100 percent."He's raring and ready to go."
Scherzer's posted a 4.09 ERA since the All-Star break, but that doesn't do justice to how good he's been since mid-July. He punched out 78 and walked just 18 in 82 2/3 post-break innings, with a fielding-independent ERA in the low 3.00s showing just how good he's been. He made three starts against the Rangers in 2011, posting a 4.76 ERA in 17 innings, striking out 12 and walking four, with the team winning two games.
"Scherzer, what an arm," Rangers manager Ron Washington raved.. It's unorthodox, doesn't throw anything straight, and for some reason when he faces us, he finds the strike zone with more consistency with all his pitches."
Much like his opponent Monday, Scherzer has struggled with consistency in his command. "It's been a challenge this whole year of constantly making adjustments throughout mechanically with each pitch and how I want to execute it throughout the whole year," the pitcher said. I felt like the last five starts, the way of my stuff and the way of my mechanics, I felt in a good position."
Rangers' Derek Holland: Holland has been tantalizing many with his potential for quite some time, and he's finally starting to deliver on his promise. As Washington put it prior to Game 1 of the ALCS, "Right now he's not a total thoroughbred. He's just a little pony, but he'll develop into a thoroughbred."
Holland has had to battle inconsistency in the past with both command and jitters, He had a forgettable 2010 postseason thanks to that, posting a 4.76 ERA in 11 1/3 innings, but so far this postseason has been an impact lefty. He scuffled in the first inning of Game 2 of the ALDS against the Rays, but pulled it together to go five innings, giving up three runs, two unearned. He also appeared in relief in Game 5, blanking Tampa for 1 1/3 innings.
"Last year, I didn't really know what to expect, how to handle anything," Holland said before Game 1. I have a better idea, especially after being around with [Cliff Lee] and then C.J. [Wilson] has been helping me big time this year in how to handle myself as a starter. This year it's a big difference. I'm a lot more relaxed and I would say composed."
Holland has only started once against the Tigers, coming last season when he held Detroit to one run in four innings, knocked out with a rising pitch count due to walking two and striking out five.
Delmon Young
had the best success for Detroit against Holland, facing him twice while with Minnesota and collecting six hits in 12 at-bats. Unfortunately, Young isn't on the roster.
Wilson Betemit
and
Victor Martinez
are the only active Tigers who have a hit off Holland.
LINEUPS

NOTES
Unlike the NLCS, there's no rancor between the teams involved in the ALCS. During Jim Leyland's press conference, he went on and on about how amazing Ron Washington has been in Texas and said that they are not enemies, just friends managing against each other. Meanwhile, both teams fraternized during BP with smiles on everyone's face. Miguel Cabrera was a popular man and could be sighted laughing uproariously with Washington.
Nelson Cruz's home run snapped a 1-for-16 skid in the postseason following a brutal September. It was a special homer for him too, as it's his seventh postseason homer (in just two seasons). That's the most in Rangers franchise history, breaking a tie with Juan Gonzalez.
The winning team in Game 1 of the ALCS has won the series 24 of 41 times, or 59 percent. That number dips to 52 percent when you limit it to only when the ALCS shifted to a best-of-seven since 1985. However, seven of the last 11 ALCS have been won by the Game 1 losing team.
For more baseball news, rumors and analysis, follow @EyeonBaseball on Twitter or subscribe to the RSS feed.