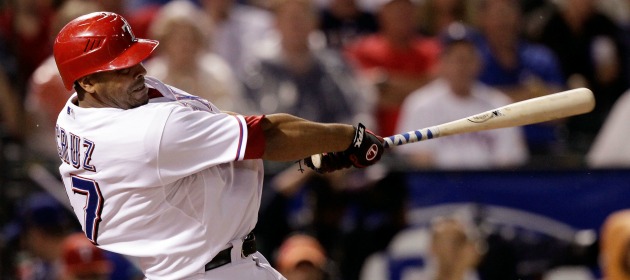 By Evan Brunell
ARLINGTON, Texas -- WIth one swing of the bat, Nelson Cruz made history.

In the fourth inning, Cruz took a Justin Verlander changeup deep into the night, giving Texas the margin of victory needed to win Game 1, 3-2.

It also happened to be the homer that gave Cruz the franchise lead in postseason home runs, breaking a tie with Juan Gonzalez after smashing six home runs in the Rangers' run to the AL pennant last season. He registered surprise at the feat, not realizing what he had done.

"This is nice, you know," Cruz told CBSSports.com. "Here we don't worry about records, we worry about wins. That's the important thing. But you take it one at bat at a time and, hopefully, you get good results."

Cruz's homer came on a 2-0 fastball down the middle. While one might have thought Cruz was sitting dead-red for a fastball, he was paying attention earlier in the game.

"One of the at-bats, I don't remember [who it was], 2-0, [Verlander] threw a change-up. It was a change-up. I was trying to be aggressive," Cruz said after the game. "First at-bat he threw me some pitches out of the strike zone. So I told myself just to be patient and wait for the right pitch to hit.

Cruz had previously been 1-for-16 in the playoffs, as well as ending the season on a forgettable note with a .190/.205/.286 line after missing the first half of September with a strained hamstring. Throughout the ALDS, Cruz and manager Ron Washington maintained that it was only a matter of time before Cruz got his stroke back, as he was yielding positive results in batting practice.

"Defintely the last few games, I feel like I swung the bat well," Cruz said. "I was lucky enough -- but the situation, playoffs, you don't care about what you do. You want the results."

Despite the slump Cruz entiered the game in, he extended his LCS hitting streak to seven games, as well as notching an extra-base hit in each of the last four contests, with home runs in three of the games. After a poor offensive display against the Rays, Texas really needed Cruz to come through against Verlander for the Rangers to have any hope of winning the game. And he did.

"We certainly needed what he gave us tonight," Washington said. "We needed that big home run off of Verlander."

For more baseball news, rumors and analysis, follow @EyeonBaseball on Twitter or subscribe to the RSS feed.