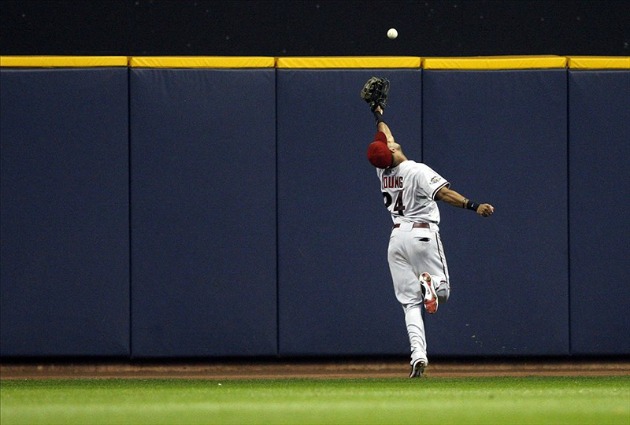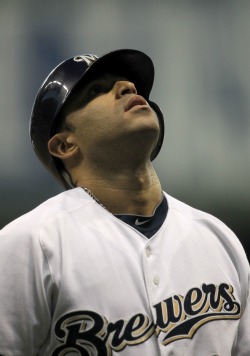 By C. Trent Rosecrans
MILWAUKEE -- Jerry Hairston Jr. could joke on Saturday about the play Arizona's Chris Young made in the sixth inning of Game 5 of the National League division series -- but only because his team won.
A day after the Brewers' dramatic victory over the Diamondbacks, Hairston was asked about Young's catch that temporarily kept the game tied at 1.
"Let me tell you something, if we would have lost, I probably wouldn't have slept for a week," Hairston said. "I was just saying please don't let that be the reason we don't win. I mean, he's a great center fielder, he really is. He made an unbelievable play. It's not like a guy who isn't a good outfielder, that's him. He's a great center fielder. He made an unbelievable play. I'm just glad that didn't affect the outcome of the game."
The ball was hit like a rocket -- and everyone expected two runs to score. Instead, the lead runner, Ryan Braun, had to go back to second and even though Young crashed into the wall, the runners weren't able to move up. Hairston was visibly upset, yelling after Young caught the ball.
"When I hit it, I thought it might have a chance to go out. I smoked it, but I know the panels were open, so the wind was blowing in. I thought at least it would short-hop the wall, double, at the very least. I had no idea he'd catch it," Hairston said. "When he stuck his glove up, I thought that was kind of cute, he's making an effort. When it landed in his glove -- I've never cried on the baseball field, but I came pretty close (Friday night). If we would have lost -- I play golf with him in the offseason all the time -- if we would have lost and he made that catch, I never would have heard the end of it. So I'm glad that we won. And he can have the catch. He's an incredible center fielder. He had a great postseason. I'm just glad we won."
However, when Yuniesky Betancourt hit a bloop single to give Milwaukee the lead, Hairston breathed a sigh of relief. And after the team won, he was able to laugh about it.
"At 35, I'm thinking double. … I was thinking at least two RBIs. Kennedy's a great pitcher and we had few opportunities to get him. I felt like we had a chance to get something going, maybe a big inning. It was just a time of the game, sixth inning, 1-1 game, I felt like that would propel us into the big inning. When he made that play, I thought maybe it's on their side.
"I just wanted to find a way to pick up a run. Yuni's been incredible all yea rand he was able to get that big hit for us. That was, I breathed a sigh of relief, but I knew that wasn't the end."
For more baseball news, rumors and analysis, follow @cbssportsmlb on Twitter or subscribe to the RSS feed.