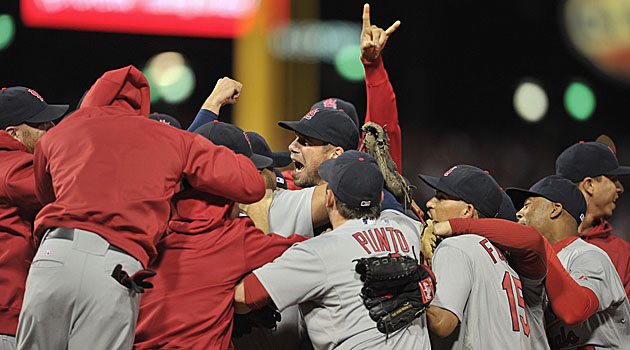 By Matt Snyder
The St. Louis
Cardinals
took down the Philadelphia
Phillies
in the NLDS, three games to two. Here's the series in pictures.
Click on any photo below to enlarge.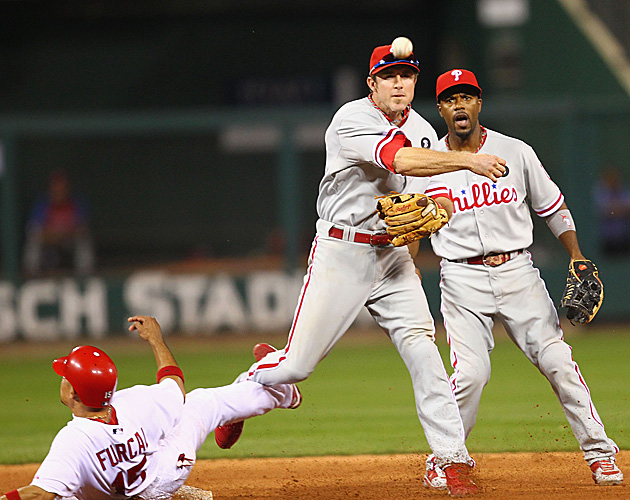 With the bases loaded and one out, Albert Pujols loomed on deck. An unassisted double play by Chase Utley got the Phillies out of the jam and helped them take Game 3. (Getty Images)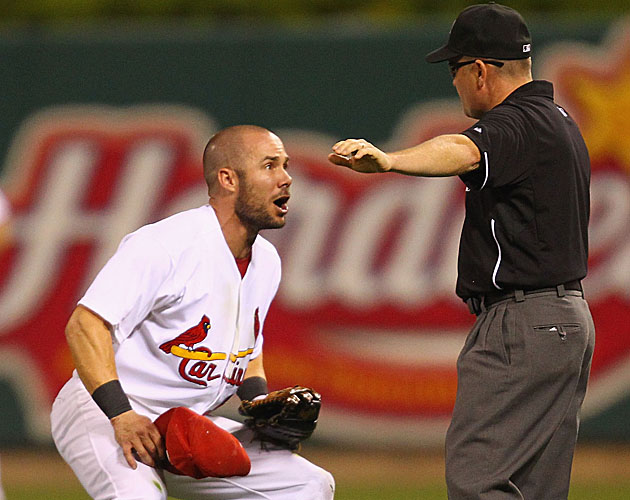 Skip Schumaker pleads his case on a catch. His side of the argument eventually won, as the umpires got together and changed the call. (Getty Images)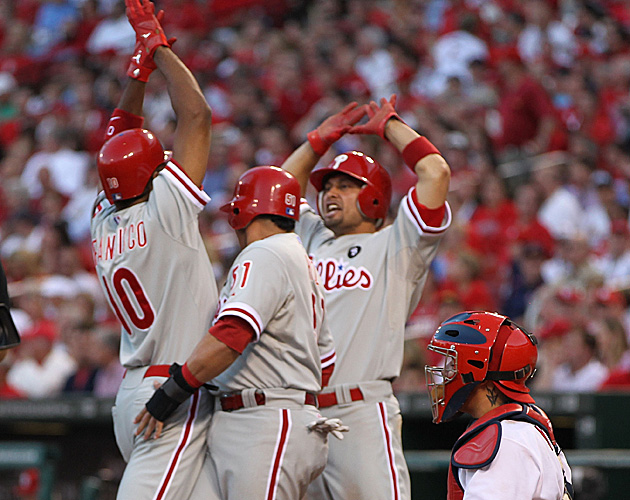 The big blow of Game 3 was Ben Francisco's pinch-hit, three-run homer. (Getty Images)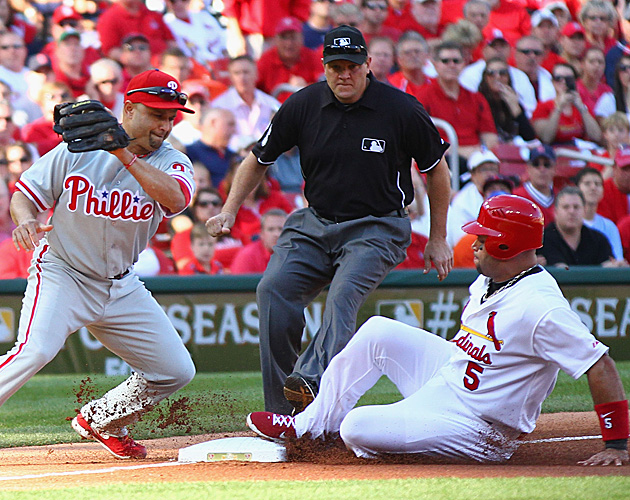 Albert Pujols swipes third base in the first inning of Game 3. (Getty Images)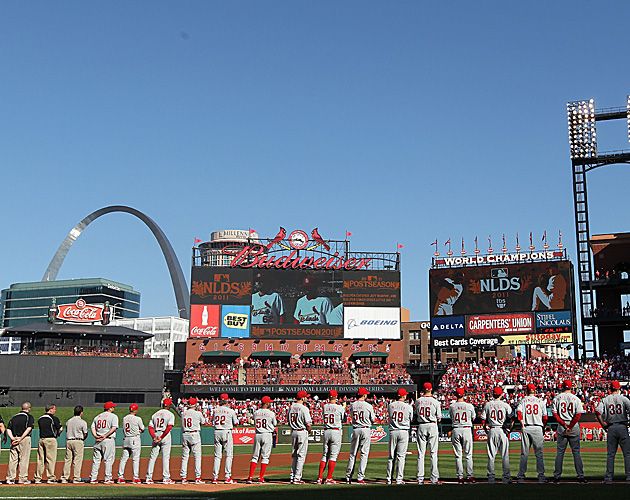 Great view of the outfield scoreboard and the Arch in the background. (Getty Images)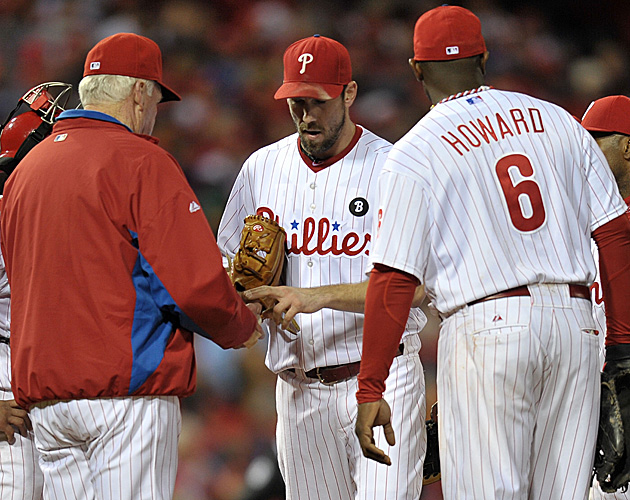 Cliff Lee, Ace No. 2 for the Phillies, faltered in Game 2. (Getty Images)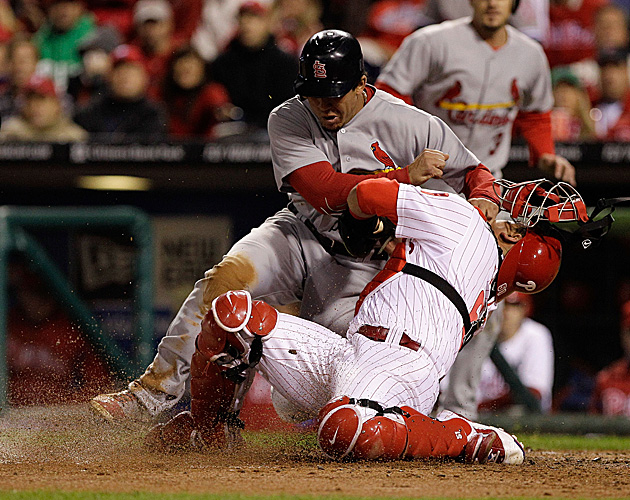 Huge collision at home plate, which seem to be happening quite often in these playoffs. (Getty Images)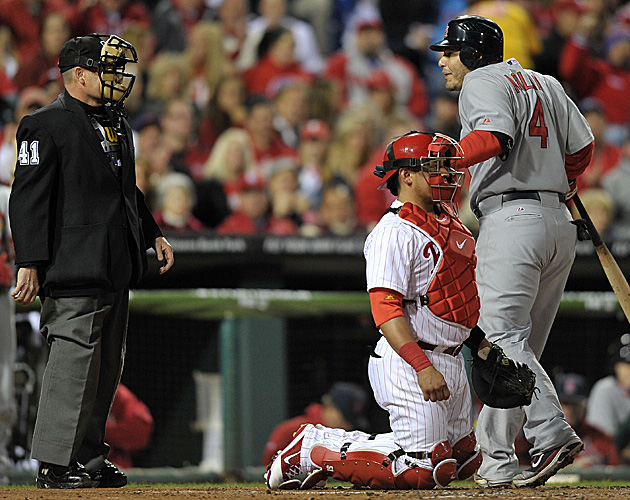 Tony La Russa hated the stike zone in Game 2, and he wasn't alone -- Yadier Molina shares his frustration. (Getty Images)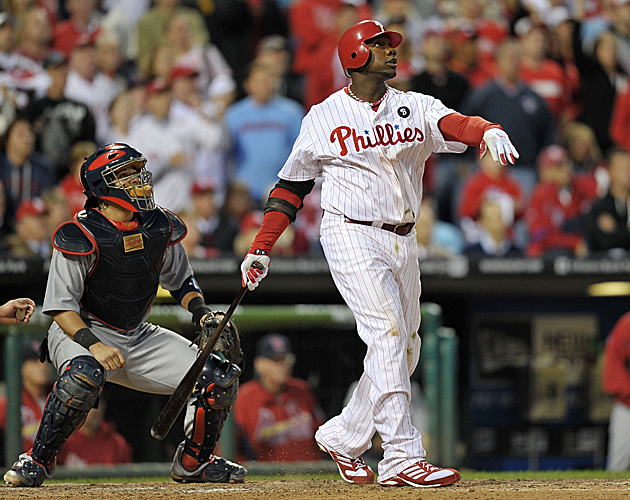 The big blow in Game 1 was Ryan Howard's towering home run. (Getty Images)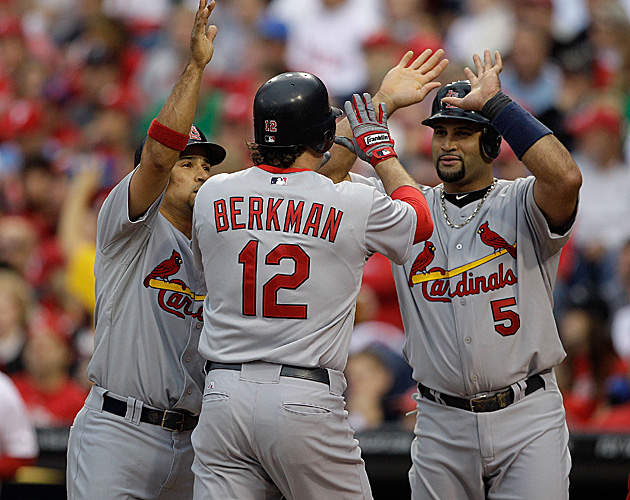 The Cardinals gained an early advantage in Game 1 with a three-run shot by Lance Berkman. (Getty Images)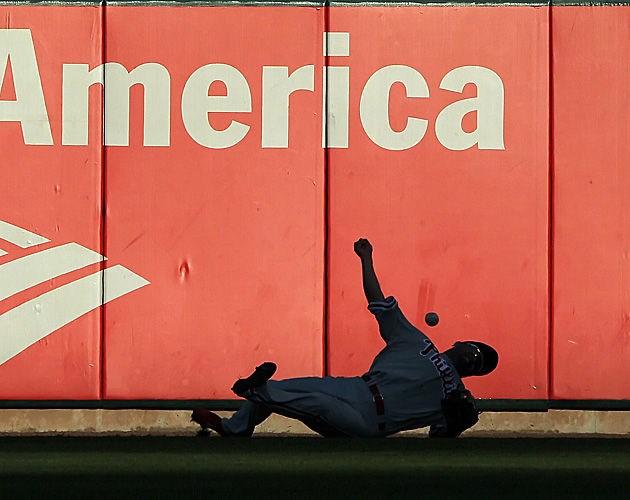 Shane Victorino committed his first error of the season in Game 4 and it was a bit funny. (Getty Images)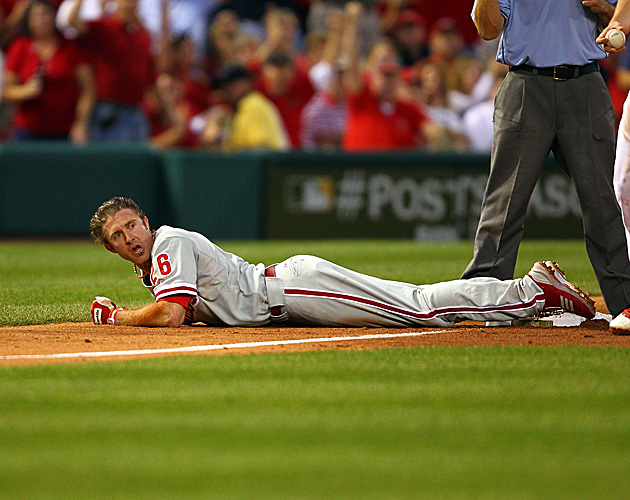 Chase Utley took a huge gamble when he headed to third base in Game 4, and Pujols nailed him. (Getty Images)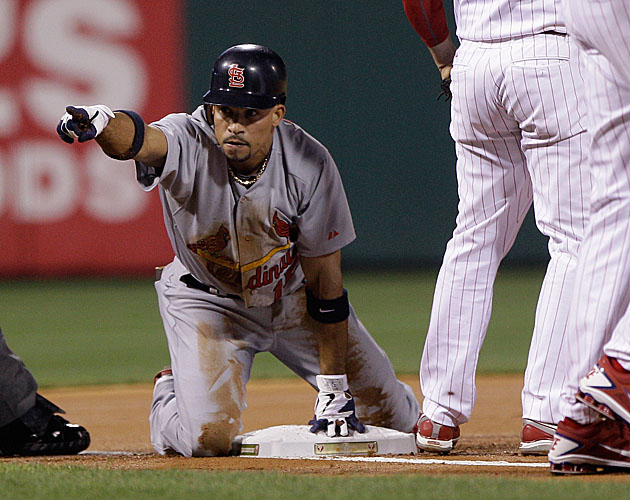 Rafael Furcal tripled to lead off the game in Game 5, and he was driven home on a Skip Schumaker double. That would be all the Cardinals needed. (Getty Images)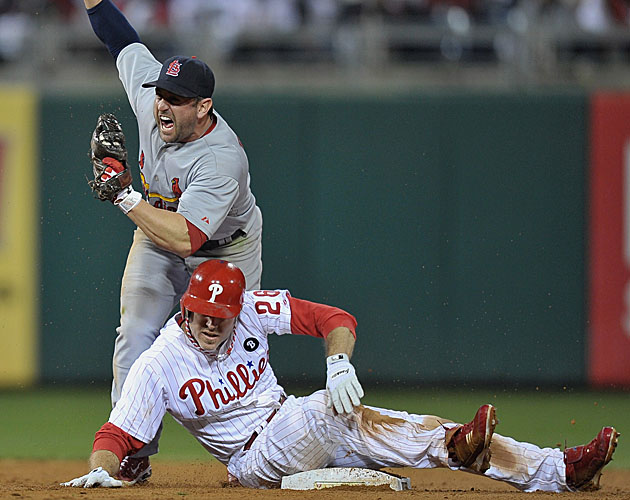 Yadier Molina threw Chase Utley out on a pivotal stolen base attempt. Had Utley made it, he would have been on second base with only one out and the Phillies trailing by one. (Getty Images)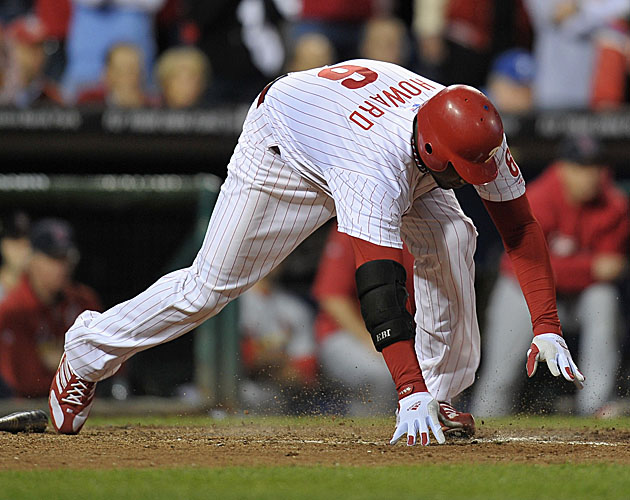 Unfortunately, the series ended on a somber note, as Ryan Howard may have been seriously injured. (Getty Images)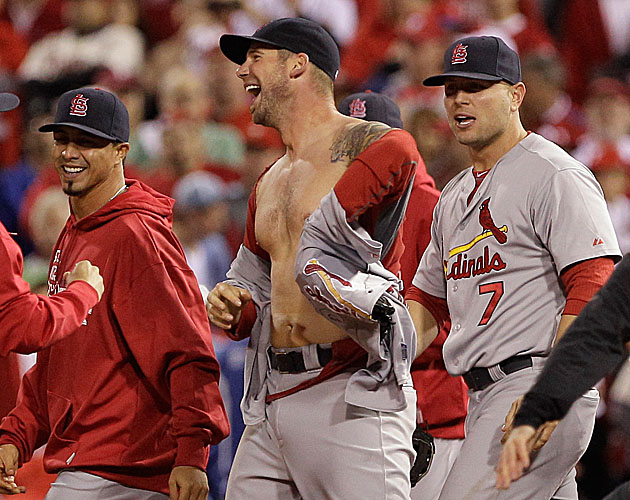 Chris Carpenter decided to go all Rock Star after throwing a three-hit shutout to get the Cardinals into the NLCS. (Getty Images)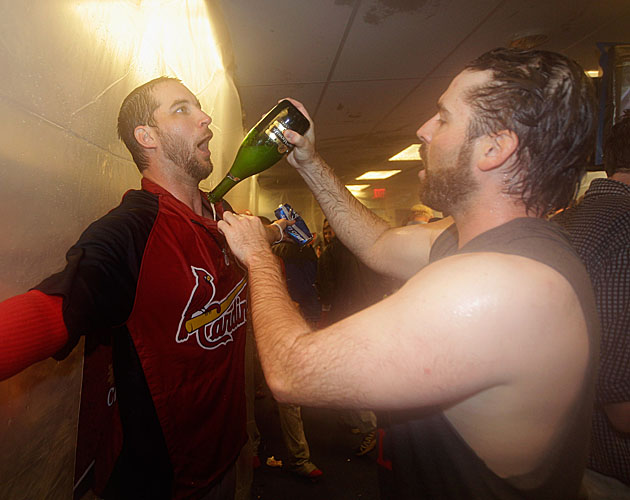 Being on the DL doesn't mean Adam Wainwright, left, misses out on the celebration. (Getty Images)
For more baseball news, rumors and analysis, follow @EyeOnBaseball on Twitter or subscribe to the RSS feed.