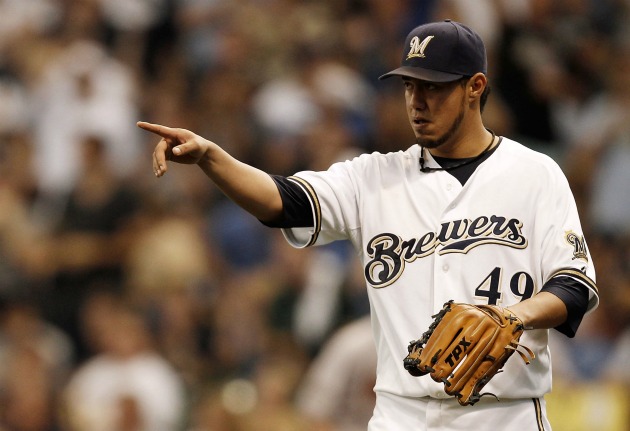 By C. Trent Rosecrans

Yovani Gallardo. The Brewers starter didn't get the win on Friday, but he was a line for the victory before John Axford's blown save. Gallardo won Game 1 and overall he went 14 innings, allowed 10 hits, two runs, walked three and struck out 14. The only two runs he allowed were on solo homers. The right-hander was the team's opening day starter by default as Zack Greinke was injured in spring training, but Gallardo came through this season to prove his worth as a top of the rotation starter.

Chris Young. There were a lot of bigger names in this series, but few performed like Young. Perhaps the only thing he didn't do was celebrate after Game 5. He hit .389/.421/.944 with three homers in the series and made one of the greatest catches I've seen in a postseason game -- going deep to take away Jerry Hairston Jr.'s liner in the Brewers' sixth inning. If he doesn't make that catch, Milwaukee scores at least two in that inning and there may be no extra innings. Had Yuniesky Betancourt not followed with a bloop single, who knows what happens in Game 5? So why a B? Every player feels they could do just a little more to win a series, even one who had as dominant a series as Young. Consider this a B-plus held down by the curve of his team.

Managerial moves: There were some winners and losers on both sides. In the end, the managers weren't the reason the Diamondbacks are going home and the Brewers are ready for the NLCS -- the players were. The players put on an amazing display of baseball through five games and especially in the last game. Gibson was overaggressive in the first game, getting punished by pitching to Prince Fielder, but then used his bullpen masterfully in the fourth game. Roenicke was slow to his bullpen in the fourth game, but played the right notes in his lineup, especially using Hairston as his third baseman, with Hairston coming up with some big hits and big plays in the field.



The rest of the Brewers starters. Gallardo was fantastic -- the same can't be said for Greinke, Shaun Marcum and Randy Wolf. But that's the beauty of the five-game series. With one good starter and a competent bullpen, you can win the series. Greinke whined his way out of Kansas City, saying he wanted to pitch in the postseason, and when he got there, he was mediocre, allowing eight hits and four runs in five innings of a Game 2 no-decision. That said, he was better than either Marcum or Wolf. Marcum didn't make it out of the fifth inning in Game 3, giving up a grand slam to Paul Goldschmidt and seven runs overall. And then there's Wolf, who went just three innings and was probably in too long, allowing seven runs in those three innings -- including Ryan Roberts' grand slam.

Road team woes. The home team won every game of this series, while the road teams struggled to score runs. Give credit to the pitching staffs for both teams, especially Gallardo and Josh Collmenter, but the team batting first struggled throughout the series. Milwaukee hit just .215/.278/.369 at Chase Field and Arizona hit just .229/.296/.400 at Miller Park.
Video: Arizona manager Kirk Gibson still believes it was a great season.
For more baseball news, rumors and analysis, follow @eyeonbaseball on Twitter or subscribe to the RSS feed.