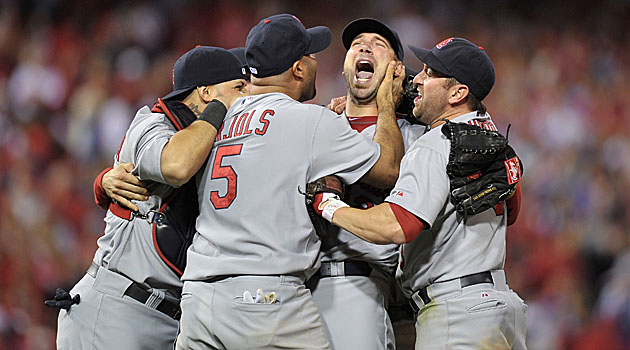 By Matt Snyder

The Game 5 pitcher's duel.
We talked about how great the
CC Sabathia
-Justin Verlander pitching matchup would be over in the ALDS for what seemed like weeks. Well, the Game 1 attempt was screwed up by weather. In Game 3, Verlander was dominant in several stretches, but still allowed four runs while Sabathia was a disppointment. So we never really got the pure baseball fan's dream of a 1-0 game where two pitchers absolutely stifle the opposition. Thank you,
Roy Halladay
and
Chris Carpenter
. Friday night's Game 5 in Philly was pure bliss to those who love old-school pitcher's duels. Halladay allowed a triple and then a double to start the game, falling behind 1-0. After that? The two pitchers combined to throw 17 shutout innings, allowing only seven hits and one walk, while striking out 10. Now
that
is a pitcher's duel. Carpenter was the star, but they both put on a show.

Cardinals' offense.
They were the best offense in the NL in 2011, so scoring 19 runs in a five-game series is not "A" material, but c'mon. These guys were facing the
Phillies
' pitching staff, the best staff in the NL during the season. Gathering 10 doubles, three triples and two home runs is pretty impressive. They also battled back from a four-run deficit against
Cliff Lee
in Game 2 and got some pretty timely hits from
David Freese
in Game 4. And remember,
Matt Holliday
was banged up. So while we can't exactly say they came through with flying colors and carried the team -- this series was certainly a team effort -- the offense was good enough to earn a solid "B."

The Phillies' vaunted rotation.
Roy Halladay was unhittable if it wasn't the first inning.
Cole Hamels
had a good, albeit inefficient outing. So we aren't really looking at those two. But Cliff Lee couldn't make a 4-0 lead stand up in Game 2, when the Phillies could have essentially put the Cardinals away. He gave up 12 hits and five runs in six innings. And
Roy Oswalt
was bad in Game 4, when the Phillies could have eliminated the Cardinals. The offense was a major reason the Phillies lost this series, but they've been overcoming a mediocre offense all season -- ranking seventh in runs scored and still winning 102 regular-season games. This team was built around its starting pitching, and if the starters
all
lived up to their billing as aces, the Phillies would have swept. Two of the four didn't get it done, so that's a "C," and the Phillies are done for the season.

The squirrel overkill.
Why do we have to take mildly amusing events and run them into the ground? When the squirrel ran on the field during play in Game 3, it was funny. When a squirrel -- maybe even the same one -- ran toward home plate during an Oswalt pitch in Game 4, it was hilarious. The @BuschSquirrel Twitter account was a nice short-term touch, I guess. But then we were bombarded with two days of squirrel jokes and TBS even had a feature once Game 5 started about squirrels on the field in Philadelphia. And they acted like it was a coincidence, no less. Yeah, I bet it was.

Ryan Howard's disappearing act.
Note: This has nothing to do with his injury on the final play of the game. As an aside here, people often try to make accusations as to who we favor, etc. I can tell what I'm rooting for in these playoffs. Four things, in no particular order, are what I want out of every game: 1. Well played, close game; 2. Good weather; 3. No umpiring mistakes altering the outcome of the game; 4. No major injuries. In Game 5 of the NLDS between the Phillies and the Cards, I got what I wanted from Points 1-3. But point four I didn't. And that sucks. But it doesn't take away from the fact that Howard had a huge start to the series and then just completely disappeared. After a two-RBI single in the first inning of Game 2, Howard had six RBI already. He had 15 plate appearances the rest of the series and was 0-for-15 with six strikeouts. That doesn't cut it for the highly-compensated cleanup hitter. And if he did come through with possibly even one big hit, the Phillies might be headed to the NLCS right now.
Video:
Phillies manager Charlie Manuel is angry about his club being eliminated.
For more baseball news, rumors and analysis, follow @EyeOnBaseball on Twitter or subscribe to the RSS feed.