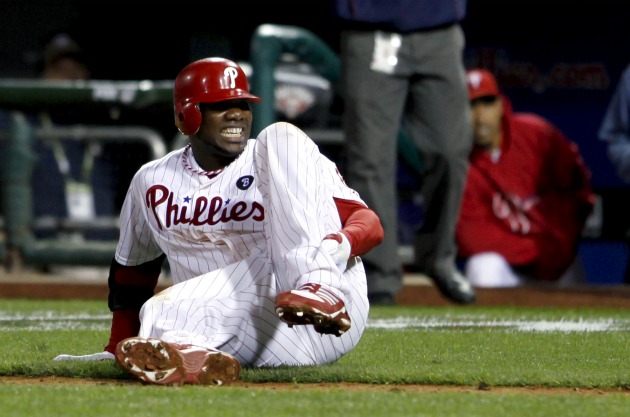 By C. Trent Rosecrans
The visual told you all you needed to know, as the Cardinals celebrated their 1-0 victory over the Phillies, the man who made the last out sat on the ground in apparent pain. And it wasn't just the pain of an ended season, it was real, physical pain as Phillies first baseman Ryan Howard suffered an Achilles injury after ground out to Ryan Theriot to end the game.

Howard told reporters after the game he fears he tore the tendon (via Matt Gelb of the Phialdelphia Inquirer's Matt Gelb on Twitter).


"It felt like my bat came around and hit the back of my Achelles," Howard told reporters after the game. "I tried to run and felt a pop and it felt like the whole thing was on fire. I tried to run, but felt like I was litterally on a flat tire. I tried to get up, but I couldn't go."
It was a rough ending for a rough night for Howard, who went 0 for 4 on the night. However, he wasn't alone as the first four batters in the Phillies lineup went just 1 for 15 in the game and the bottom four went 0 for 12 against Chris Carpenter. Howard not only went hitless on Friday, he finished the series with just two hits and none in the last three games of the series.
Howard, a St. Louis native, is scheduled to have an MRI on Saturday. A ruptured Achilles could mean a lengthy rehab that would cut into a good part of the 2012 season. The 31-year-old is under contract through the 2016 season with $125 million left on his contract.
For more baseball news, rumors and analysis, follow @eyeonbaseball on Twitter or subscribe to the RSS feed.