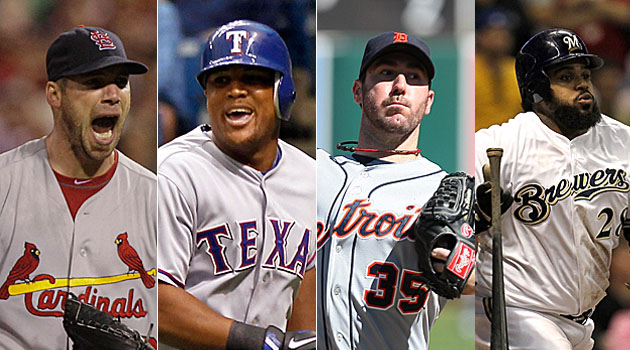 By Matt Snyder
When
Ryan Howard
grounded out to end an absolutely brilliant pitchers' duel between
Chris Carpenter
and
Roy Halladay
, the
Phillies
were eliminated from the playoffs by the
Cardinals
. In the bigger picture, all teams in the East divisions were now eliminated -- just as are the top nine payrolls in baseball, according to the figures from the start of 2011.
The
Tigers
are now the big boy, of the four remaining teams. They entered 2011 with a $105,700,231 payroll, ranking 10th in the majors. The Cardinals followed, ranking 11th, with the
Rangers
checking in at 13 and the
Brewers
ranking 17th. This isn't a commentary on how spending doesn't benefit teams, because the
Yankees
and Phillies only lost Game 5 in their respective series by one run. Spending also gives those teams a larger margin of error on big free agent signings, so don't overreact and say spending causes losing. It most certainly doesn't. But we do have to give credit where it's due here. The four remaining teams in the 2011 postseason were not big spenders. They were more middle-market spenders who assembled quality teams with shrewd front-office moves. Oh, and they aren't from the East, too. That seems to matter to many fans.
We so often hear the lament of the national fans, that they are sick of seeing the Yankees,
Red Sox
and Phillies. Well, they're all gone now. Lament no more. We've got Detroit, Texas, Milwaukee and St. Louis represented. It's a great cross-section of what those coastal types might call flyover country. Being an Indiana resident, I think it's pretty cool myself.
Maybe FOX isn't happy that the World Series doesn't have the New York and Philadelphia markets (or Boston ... or Chicago ... or Los Angeles), but pure baseball fans will tune in and enjoy a great product no matter who is playing. We just witnessed four dramatic series, none of which were sweeps and three of which went the absolute distance -- all ending with one-run decisions in Game 5. That's a great product. Period.
Oh, by the way, parity police: The Rangers and Brewers have never won the World Series. The Tigers haven't won it since 1984. The Cardinals have won the World Series one time since 1982.
One could spin this as the playoffs of the underdog, though that wouldn't really be accurate in the cases of at least the Rangers and maybe all four. Maybe it's the playoffs of the less fortunate (or medium fortunate, to be more accurate)? Or the adept spenders? The non-coasters? Whatever it is, it's been extremely entertaining thus far and that doesn't appear to be going away any time soon. Make no mistake about it, these two League Championship Series and the ensuing World Series are absolutely compelling. Stay tuned, it's going to be three total must-watch series. Even if the teams don't play in the largest of markets.
For more baseball news, rumors and analysis, follow @EyeOnBaseball on Twitter or subscribe to the RSS feed.