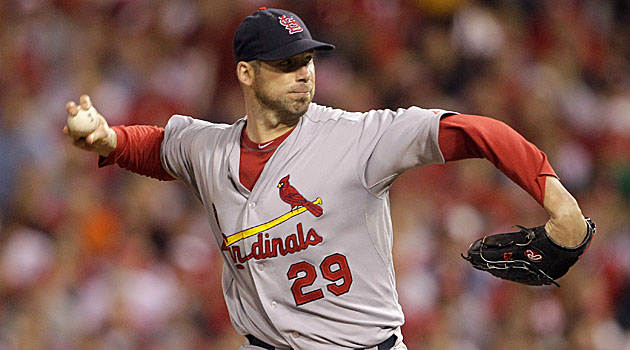 By Matt Snyder
Hero:
There's no question here.
Chris Carpenter
went out and dominated with no margin for error. He was spotted a one-run lead in the first inning, and then fellow ace
Roy Halladay
locked in for the
Phillies
. Carpenter himself probably knew he was going to have to throw a shutout. And he did.
Goat:
The Phillies offense. Yes, Carpenter was masterful and, yes, Roy Halladay gave up two extra-base hits to start the game. But are we really going to blame Halladay for allowing one run to the best offense in baseball? On the flip-side, the Phillies mustered just three hits and four base-runners -- the fourth was on a
Yadier Molina
error. They've got to give their pitching staff more help than that.
Turning point:
We're going to have to be flexible with the term here, because there wasn't really a big turning point. The
Cardinals
had a 1-0 lead after two batters and held it the entire game. So we'll go with this: With runners on first and third in the in the bottom of the fourth inning,
Raul Ibanez
sent a Carpenter pitch deep to right field. It nestled into
Lance Berkman
's glove on the warning track and the only real threat to the Phillies scoring multiple runs was averted.
It was over when ...
Ryan Howard
grounded out to end the game. He's liable to hit a home run at any second, so the 1-0 lead was never safe until the game was finally over.
Next:
The Cardinals head to Milwaukee to face off against the
Brewers
-- in what has become a pretty heated rivalry. Now we'll get to see it for seven games. Will there be any T-Plush vs. Chris Carpenter issues? What happens if the Brewers pitch
Albert Pujols
inside and Tony La Russa has a pitcher dot
Ryan Braun
? The list could go on and on, but there's no need to get into all that right now. It's gonna be incredible entertainment, but this night is the time for both NL Central teams in the playoffs to celebrate their victories. They can look ahead Saturday.
Video:
Carpenter, La Russa speak about the victory.
For more baseball news, rumors and analysis, follow @EyeOnBaseball on Twitter or subscribe to the RSS feed.