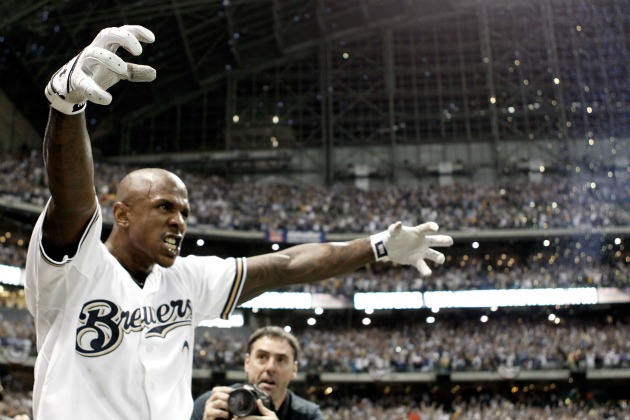 By C. Trent Rosecrans
The most dramatic turnaround of 2011 wasn't the Arizona Diamondbacks -- they were close, but not quite it -- instead, it was the guy who ended the Diamondbacks' season, Brewers center fielder Nyjer Morgan.
For all the T-Plush love that's been spread over the last couple of months, it's easy to forget how 2010 ended for Morgan. The last month-and-a-half of the 2010 season included an eight-game suspension, a $15,000 fine, incitement of a benches-clearing brawl, a clothesline from the Marlins' Gaby Sanchez in said brawl, had another suspension that was ultimately rescinded, was called out by his manager after running over Cardinals catcher Bryan Anderson, called out his manager, was benched and also ran over Marlins catcher Brett Hayes and was tagged out when a slide would have won the game. Yeah, it was a rough 2010.
Brewers 3, Diamondbacks 2
And 2011 didn't start out too hot, either. It's easy to forget now, but Morgan started spring training with the Nationals. He was a target in spring when Marlins pitcher Ricky Nolasco hit him in a spring training game and that drew the ire of Morgan, who didn't charge the mound, but took his base. He got in another altercation with the Cardinals before he told a reporter he felt he was on his way out of Washington. That upset then-Nationals manager Jim Riggleman, but it turned out to be reality, as two days later he was sent from the Nationals to the Brewers in exchange for minor-league infielder Cutter Dykstra.
Even when he got to the Brewers, he had a struggle of a different kind, with two disabled list stints in the first two months of the season -- one for a deep thigh bruise and another for a broken middle finger. He also had to share playing time with Carlos Gomez once he got back.
In Milwaukee, though, he endeared himself to the home fans with his intensity and personality, as well as his Twitter precense (@The RealTPlush).
While it hasn't been all roses in Milwaukee-- there was an overly "aggressive" celebration in San Francisco and a dustup with Cardinals starter Chris Carpenter and subsequent Twitter "insults" to the Cardinals and Albert Pujols.
But in the end -- or at least after the NLDS -- Morgan is the team's emotional leader on a team with two legit MVP candidates.
"He's just -- he's a joy to have, I'll tell you," Brewers manager Ron Roenicke. I don't care about all the little issues we have. This guy, I love him on this team. I like him as a really nice young man. He came through big, again, when we needed him."
Morgan had the winning hit in Friday's Game 5 over the Diamondbacks, driving in Gomez in the 10th. He was front and center in the team's celebration (and in the FCC's 'to do' list), but he's also a major reason the Brewers are going to play for the right to go to the World Series.
After, Morgan even reflected on his journey from Public Enemy No. 1 to Milwaukee hero.
"I mean, it's a lot. Just everything that I've had to overcome. Just the stuff that people go out there and perceive about me," Morgan said in the post-game news conference, while wearing a Brewers' branded Army helmet. "And just everything that -- all my haters. I just wanted to show them that I can play this game. Even though I've got a fun, bubbly personality and everything like that, I still come to win and I'm a winner."
For everything you can say about Morgan, on Friday, at least, you have to give him that.


For more baseball news, rumors and analysis, follow @eyeonbaseball on Twitter or subscribe to the RSS feed.