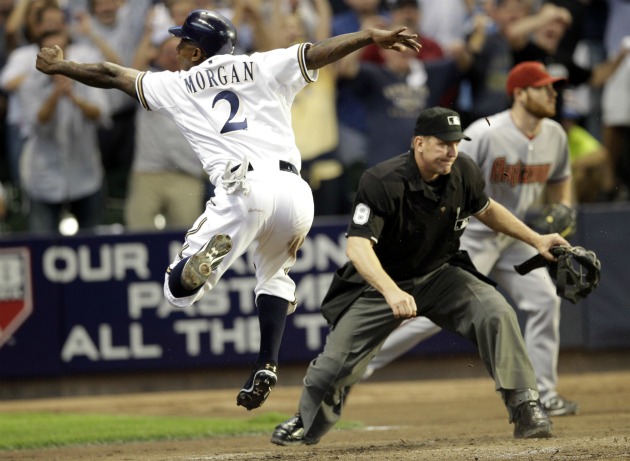 By C. Trent Rosecrans
Hero: Nyjer Morgan scored the Brewers' first run and drove in the last. His one-out single up the middle in the 10th inning gave Milwaukee its first postseason series victory since 1982. With Carlos Gomez on second, Morgan singled up the middle and there was no chance for the Diamondbacks to get the speedy Gomez. Morgan scored the team's first run in the fourth when he tagged up on Jerry Hairston Jr.'s popup to shallow right that was caught by second baseman Aaron Hill. It was a heads-up piece of baserunning, realizing the second baseman couldn't get a throw home in time.
Brewers 3, Diamondbacks 2
Goat: J.J. Putz is a closer, and he wasn't in line to close, but he needed to hold the game for the Diamondbacks in the 10th inning. Instead, he gave up a single to Gomez and then another to Morgan to end the Diamondbacks' season. Putz had gone 17 2/3 innings without giving up a run and finishes the season having converted his last 24 save opportunities. It's tough to call anyone a goat in such a great game, but Putz is about as close as it gets here.
Turning point: Gomez's stolen base in the 10th erased any shot of Putz getting to face Ryan Braun or Prince Fielder without a runner in scoring position. With the speedy Gomez at second, there was doubt he could score on any hit to the outfield.
It was over when … When the ball got past Putz -- who tried to deflect the ball with his foot. Once it got by him, shortstop Willie Bloomquist had no shot. It was obvious it was going to get in the outfield and Gomez would score.
Next: The season is over for the Diamondbacks, while the Brewers move on the National League Championship Series to face the winner of the Cardinals-Phillies Game 5.
For more baseball news, rumors and analysis, follow @eyeonbaseball on Twitter or subscribe to the RSS feed.