By C. Trent Rosecrans
There are some awesome things that happen in baseball when a player hits a homer -- you know, besides the run or four that can come in a single swing of the bat. Stadiums across America have special features built in to celebrate a home run, ranging from the classic apple appearing beyond the fence when a Mets player hits a homer at home, to the subtle but cool fountains going off in Kansas City when a Royal hits a homer and even the mascot-tastic when Bernie Brewer takes a turn down the slide in Milwaukee. And now, well, there will be the Marlins and this: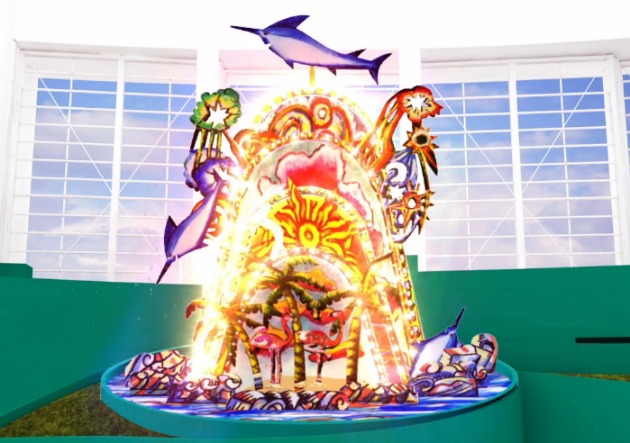 Mike Stanton's majestic blasts used to be punctuated just by the sound of ball hit hitting an empty seat. That understated echo will be missed.
The -- I don't even know what to call this monstrosity -- was announced in July, but floated under the radar until today when SBNation's Grant Brisbee wrote about it and linked to the Miami-Dade County Department of Cultural Affairs Facebook page with the video of the… thing. Although it was originally posted on July 10, all 20-plus comments have come since Brisbee linked to it. Sure, six people clicked "Like" on the video, but there aren't really any supportive comments.
I'm all for public art, but sometimes you have to know your audience. Of course, maybe they know it better than I do, and the loads and loads of Marlins fans are all about this kind of thing. I mean, it's Florida after all, so anything's possible. And maybe that was the artist's joke -- making fun of Miami and everything the rest of us think about South Florida. Or at least we can hope.

UPDATE: And in another example of how quickly we forget these things in the 20-second Twitter newscycle, it was brought to my attention that 'Duk over at Big League Stew wrote about this development last December. (What makes it funnier is that 'Duk based his article from one in the Sun-Sentinel that ran in December, while today a writer at the Sun-Sentinel blogged about the sign and wrote it was first picked up by SBNation!) Oh, wait, that's not the funniest part -- the funniest part was that this thing cost (or was scheduled to cost) $2.3 million!
For more baseball news, rumors and analysis, follow @eyeonbaseball on Twitter or subscribe to the RSS feed.