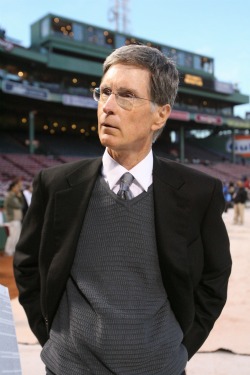 By C. Trent Rosecrans
Red Sox
owner John Henry and CEO Larry Lucchino declined to comment specifically about the
Cubs
' request to interview general manager Theo Epstein when they appeared on a local Boston radio show on Friday.
"Every year we get requests from people. We've never discussed them publicly," Lucchino said (via WEEI.com). "We don't comment on requests."
Henry said that there is a general understanding in baseball that teams will grant permission if it is for a promotion -- something the Cubs could theoretically offer.
Henry didn't say if the Cubs have offered a promotion, but the team could name him president or CEO or whatever made up title they wanted to give him and it sounds like the Red Sox owner would allow him to interview.
Henry also noted that Epstein wouldn't be the Red Sox general manager "forever."
"Everyone has to understand a couple of things, and I think (Terry Francona) alluded to this, I think there's certain shelf life in these jobs," Henry said. "You can only be the general manger if you're sane. You can only be the manager for a certain amount of time. It's a tremendous pressure-cooker here, 162 games. It's a long season, and the pressure here is 365 days.
"So, Theo is not going to be the general manager forever. Just as if Tito had come back for the last two years, would he have gone past 10 years? I can't imagine he would have. I think that Theo will. He's the guy now, he's been the guy, we've had tremendous success. We fell apart at the end of the season. As Larry expressed, we're upset about it. No fan could be more upset than I am about the result this year. But he's done a tremendouss job for us over the last eight years."
For more baseball news, rumors and analysis, follow @eyeonbaseball on Twitter or subscribe to the RSS feed.