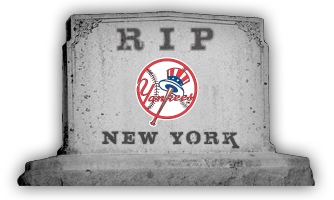 By Matt Snyder
Another season gone, another disappointment for 29 teams as one is immortalized forever. Let's take a look back at 2011 and forward in Eye on Baseball's R.I.P. series...
Team name:
New York
Yankees
Record:
97-65, 1st place in AL East. Lost ALDS 3-2 to Detroit.
Manager:
Joe Girardi
Best hitter:
Curtis Granderson
-- .262/.364/.552, 41 HR, 119 RBI, 136 R, 10 3B, 25 SB
Best pitcher:
CC Sabathia
-- 19-8, 3.00 ERA, 1.23 WHIP, 230 K in 237 1/3 IP
2011 SEASON RECAP
It was a pretty normal regular season for the Yankees, as they brought home their 12th AL East title in the past 16 seasons, but it wasn't drawn up the same way as other successful seasons. The pitching rotation from Day 1 was patchwork.
Freddy Garcia
,
Bartolo Colon
and a host of others -- such as Mark Prior -- were brought in during spring training to see if any would stick and it worked out to varying degrees with Garcia, Colon and rookie
Ivan Nova
. The offense was once-again mighty, as Curtis Granderson emerged as an MVP candidate to pick up the slack for the injured and struggling
Alex Rodriguez
. Still, in the end, this season will be viewed as a failure since the Yankees didn't win the World Series. If they don't win the World Series, they fell short of expectations. More than 20 other teams would have been ultimately satisfied by this campaign, but not the Yankees. Losing in the ALDS is a failure. Period.
2012 AUDIT
The Yankees are in a familiar spot. They're set up to contend for a World Series title again in 2012, but they are going to have to fill some holes -- namely that they need another reliable starting pitcher. Eyes can look forward and see they need to get younger pretty soon, but with several contracts locked in, the Yankees don't have much choice for 2012. And there is no reason to expect the Yankees to be anywhere but right in the playoff mix come September of 2012. It would be foolish to think otherwise.
FREE AGENTS
Robinson Cano
, 2B (club option)
Eric Chavez
, 3B
Nick Swisher
, RF (club option)
Jorge Posada
, DH
Bartolo Colon, SP
Freddy Garcia, SP
CC Sabathia, SP (can and probably will opt out)
Luis Ayala
, RP
OFFSEASON FOCUS
They will most certainly bring back Sabathia and Cano. From there ...
For more baseball news, rumors and analysis, follow @EyeOnBaseball on Twitter or subscribe to the RSS feed.