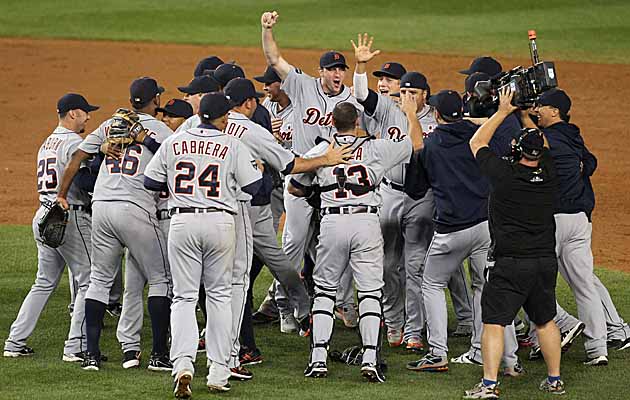 By Matt Snyder

Jim Leyland's tinkering.
Leyland was roundly mocked on Twitter for his choice in the two-hole of the batting order throughout the series. He used a different lineup five different times in five games while
Yankees
manager Joe Girardi kept the same lineup throughout the entire ALDS. And look at the
Tigers
' three wins.
Magglio Ordonez
was 3-for-3 with a run scored in Game 2.
Ramon Santiago
was 2-for-4 with two huge RBI in a Game 3 victory and Thursday night in Game 5,
Don Kelly
opened the scoring in the first inning with a solo home run. Give Leyland credit for pushing the right buttons, specifically with who he batted second, but generally throughout the entire series.

The Tigers' back-end duo of Joaquin Benoit and Jose Valverde
wasn't perfect in the series. Valverde made Game 2 interesting with a bad ninth and Benoit walked in a run Thursday night, even if it was an inherited runner. Still, the Tigers blew zero leads with either pitcher on the mound and the duo was a major reason for the series victory. Benoit in particular had to work out of some pretty rough spots, both in Game 2 and in Game 5. His stuff is nasty and he came up with big strikeouts when he had to have them. Valverde was shaky in his first two outings, but was anything but that in Game 5, with a one-run lead and the season on the line.

Justin Verlander
struck out 11 batters and was masterful at times in his lone real start of the series: Game 3. He also gave up six hits, three walks and four earned runs. He did gather the victory, as he outpitched Yankees ace
CC Sabathia
. And we have to point out the Yankees do have a pretty damn good offense, too. It's just that this was a "C" effort for Verlander considering his body of work. You don't expect him to go out and give up four runs in a must-win game. He wasn't at his best, he was just good enough. That's a C-effort in my book. Probably in his, too. I also fully expect an A-effort in Game 1 against the
Rangers
.

We're going with
Mother Nature/Major League Baseball
here. Game 1 was ruined by rain. We have absolutely no way of knowing how the series would have gone -- and, remember, I predicted the Tigers in five anyway, so this is no excuse for the Yankees' loss -- but we were deprived of the real series. If MLB moved the start time earlier or didn't start Game 1 at all last Friday, we'd have seen both Verlander and Yankees ace CC Sabathia make two full starts in the series. Instead, each was wasted in a rain-suspended Game 1 and could only turn around to make one more start. On the other hand, the weather reports aren't always predictable, so this was a tough call. Bottom line, we got screwed a bit, and there's nowhere else to place the blame than with whoever you believe controls the weather in New York City.

Yankees 4-5-6 hitters.
Alex Rodriguez
is a big scapegoat for many. He has been for years. In Game 5, he struck out with the bases loaded in the seventh inning and then ended the series with a strikeout in the ninth. The boos showered down upon him several times at home.
Nick Swisher
also struck out with the bases loaded in Game 5, and his was to end the inning. Combined, A-Rod,
Mark Teixeira
and Swisher went 9-for-55 (.164) with five RBI in the entire series. A-Rod was the worst, going 2-for-18 (.111), but all three of these guys were bad. If you want to know how bad, here's another illustration: The only two runs
Robinson Cano
scored all series were on his own home runs. He was left on base seven times.
For more baseball news, rumors and analysis, follow @EyeOnBaseball on Twitter or subscribe to the RSS feed.