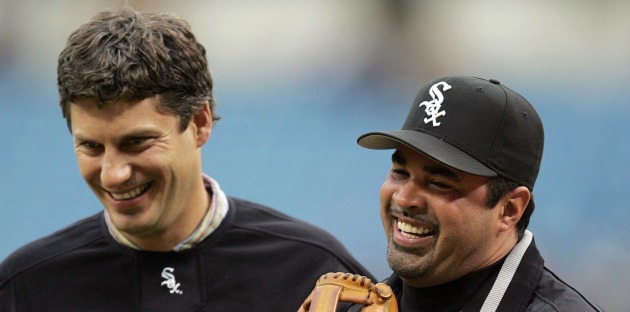 By Evan Brunell

The
White Sox
announced Thursday they have named Robin Ventura as their new manager.
"When I rejoined the White Sox this June, I said this was my baseball home and that part of me never left the White Sox organization," Ventura said in a team release announcing the hire.

"My family and I are thrilled to be returning to Chicago. Managing a Major League Baseball team is a tremendous honor. It's also an opportunity and a challenge.
"I am excited to begin my career as a manager surrounded by former teammates, staff, media and White Sox fans I know very well. I already am looking forward to talking to our players, to this offseason and to getting things underway at spring training next February."
Ventura (pictured, left, with ex-manager Ozzie Guillen) becomes the club's 38th manager and beats out
Rays
bench coach Dave Martinez among other potential candidates. Martinez was considered a lock for the job, and Ventura's hiring comes as a big surprise; the only coaching experience he has had is as hitting coach for his children's high school baseball team in Arroyo Grande, Calif., he said in an interview with the
Omaha World-Herald
in June.
"When I met with the media as our season ended, I identified one person at the very top of my managerial list," GM Kenny Williams said in a team release. "I wanted someone who met very specific criteria centered around his leadership abilities. Robin Ventura was that man. His baseball knowledge and expertise, his professionalism, his familiarity with the White Sox and Chicago and his outstanding character make him absolutely the right person to lead our clubhouse and this organization into the seasons ahead."
Ventura is very familiar with the White Sox, having spent 10 years with the team starting in 1989. In a 16-year MLB career, he played under such luminaries as Jeff Torborg, Bobby Valentine and Joe Torre. "I ran the gamut on different styles and smart baseball men," he said, adding that he wants players who are willing to be accountable for their actions.
Ventura finished his career with a .267/.362/.444 line in 2,079 plate appearances with 294 home runs, retiring after the 2004 season. He's
most famous for his on-field fight
with Nolan Ryan that delivered an iconic picture of Ryan gripping Ventura in a headlock. Ryan is currently the CEO of the Texas
Rangers
, who will play in the ALCS on Friday. He had previously served as a broadcaster with ESPN, appearing at times on ESPNU and also serving as analyst during the College World Series. He has also been special adviser to the director of player development for the White Sox since June, working under former manager Buddy Bell who was considered a strong contender for the job before he declined to be considered. The former third baseman, who made two All-Star teams and won six Gold Gloves, was asked earlier this year in an
ESPN chat
how he felt about a coaching career.
"I'm happy right now, I have four kids at home," he wrote. "It's nice to be around for that. I do stuff with ESPN. Coaching is a big commitment, and some people just think you can be a guest celebrity coach, and that's not what it is. Lot of work. Happy doing what I'm doing."
Well, apparently Ventura's ready for the commitment of being the White Sox manager. He admitted to being surprised when approached about the position by Bell and Williams, but quickly warmed to the idea.
"I think there is a challenge there, getting back into the game," he said in a conference call. "I do have a passion for it. I do have a passion for this team and this city. I'm not one to really back away from a lot of things. ...The passion is there to do it, I was asked to do it. I'm honored."
Williams, for his part, explained how they convinced Ventura it would be a good move.
"Needless to say he was a little surprised and little apprehensive," Williams said. "We had to explain to him exactly what the support system would be and exactly what our expectations were at the start. I was very clear with him that I do not expect him to be Tony La Russa on day one. In our estimation the fit is such that all of that will come together and we will ultimately be better off down the line that we could be if -- in my opinion -- we went in a different direction."
For more baseball news, rumors and analysis, follow @EyeonBaseball on Twitter or subscribe to the RSS feed.