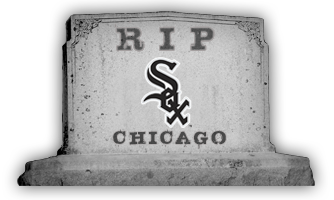 By C. Trent Rosecrans
Another season gone, another disappointment for 29 teams as one is immortalized forever. Let's take a look back at 2011 and forward in Eye on Baseball's R.I.P. series...
Team name:
Chicago
White Sox
Record:
79-83, 3rd place AL Central, 16 GB
Manager:
Ozzie Guillen/Don Cooper
Best hitter:
Paul Konerko
-- .300/.388/.517 with 31 HR, 105 RBI
Best pitcher:
Mark Buehrle
-- 13-0, 3.59 ERA, 205 1/3 IP, 109 SO, 45 BB
2011 SEASON RECAP
That feeling Red Sox and Braves fans had in the last days of the season? That's what it felt like all season long on the Southside of Chicago. The White Sox spent big money to bring Adam Dunn to town and dreams of him crushing balls out of U.S. Cellular Field. Instead, he was the biggest flop since Cowboys vs. Aliens. Dunn had an emergency appendectomy early in the season, and that may have been his highlight for 2011, finishing the season hitting .159/.292/.277 with 11 home runs and 42 RBI. The disappointment in Dunn permeated the entire season, even though the White Sox were just three games back in the American League Central leading up to the trade deadline, they never looked like a serious contender. They didn't disappoint, going 11-17 over the last month of the season as manager Ozzie Guillen dropped hints about wanting out before getting his way and being sent to the Marlins for a couple of minor-leaguers.
2012 AUDIT
The White Sox already have nearly $90 million committed for 2012, so there's little chance of a quick fix. Jake Peavy, Alex Rios, Dunn and Konerko alone will account for $55.5 million, more than the entire 2011 opening day payroll for the Diamondbacks, Indians, Padres, Pirates, Rays and Royals. The will be looking to get some of its younger players, like catcher Tyler Flowers and outfielders Dayan Viciedo and Alejandro De Aza.
FREE AGENTS
LHP Mark Buehrle
OF
Juan Pierre
RHP
Jason Frasor
($3.75 team option)
UTIL
Omar Vizquel
C
Ramon Castro
OFFSEASON FOCUS
Forget the big-name managerial candidates. There's no need to throw money at Tony La Russa or Terry Francona. Hire Rays bench coach Dave Martinez. He's learned at the hand of baseball's best manager, Joe Maddon, and he's ready for his own challenge. Martinez also knows the landscape, as part of his long big-league career, he played for both the White Sox and Cubs. Sandy Alomar Jr., another former White Sox, would be a good choice, as well. UPDATE: Former third baseman Robin Ventura has been named manager, just hours after this was originally posted.
Avoid the free agent market. Yes, this could be difficult for Kenny Williams, but this is not the time for the White Sox to spend big bucks on free agents.
Not that anyone expects anything different, the White Sox should give Buehrle a nice watch and wave him goodbye. Buehrle would like to return, but his price tag is likely too high. His time, like Guillen's, is over.
Juan Pierre? Gone.
Dangle John Danks and Gavin Floyd. While there are some attractive names on the free agent market, the pitching market isn't as as good as the available position players. Teams will be looking for pitching, and either Floyd (making $7 million in 2012 with a club options or 2013) or Danks (in his final year of arbitration). If neither bring back the kind of return the team wants, you can pull them back. Look at Toronto's trade of Shaun Marcum for Brett Lawrie as an example. The White Sox have by far the worst minor-league system in baseball, and it needs replacements.
Tell Chris Sale to get ready to start. Kenny Williams already told him this, but let it be known it's his spot to lose.
For more baseball news, rumors and analysis, follow @eyeonbaseball on Twitter or subscribe to the RSS feed.