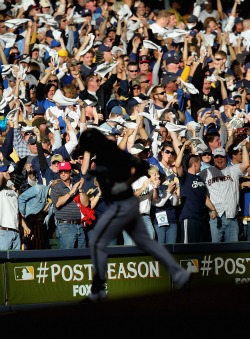 By C. Trent Rosecrans
In the National League divisional series between the Diamondbacks and Brewers, home is where the offense is, as the home team has outscored the visitors 31-12 in the first four games of the series, winning each game.
Forget the starting pitchers, geography could be the biggest factor in the deciding Friday's Game 5 and which team moves on to the NLDS. Not only have the two teams held serve at home through the first four games, but their offenses have responded to home cooking.
The sample sizes are small, but the difference in offense between the home and road teams in this series is glaring, and also in line with the teams' regular-season performances.
So far in the NLDS, Arizona is hitting .343/.410/.586 at home and .212/.278/.424 on the road. During the season, Arizona's splits were .262/.337/.444 at Chase Field and and .239/.308/.383 away from home. The Diamondbacks scored 400 runs at Chase FIeld and 331 away from it during the season.
Diamondbacks catcher Miguel Montero was hitless in the first two games in Milwaukee, but then went 5 for 8 in Games 3 and 4. During the season, Montero was actually better away from home, hitting .291/.363/.482 with 10 of his homers away from Chase Field and .273/.339/.455 at home.
The Brewers are also continuing their trend of struggles away from Miller Park. Milwaukee hit .313/.356/.522 in the first two games at Miller Park and .215/.278/.369 at Chase Field. During the regular season, the Brewers -- owners of baseball's best home record -- scored 389 runs at home with a .277/.344/.461 slash line and scored 332 runs while hitting .246/.307/.391 away from home.
The Brewers' three All-Star starters -- Prince Fielder, Ryan Braun and Rickie Weeks -- have gone a combined 10-22 at home and 3-23 at Chase Field. For the season, the trio has hit .326/.421/.612 at Miller Park and .281/.362/.494 on the road.
More postseason coverage: Postseason schedule | Brewers-Diamondbacks series | 2011 playoffs
For more baseball news, rumors and analysis, follow @eyeonbaseball on Twitter or subscribe to the RSS feed.