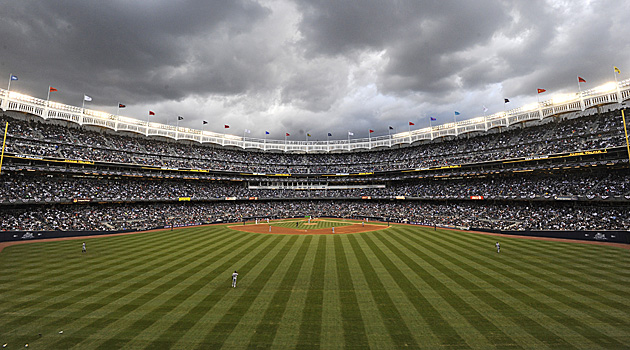 By Matt Snyder
You want to talk about momentum? Go ahead. It's proven incorrect through most the
Tigers
-Yankees ALDS.
The national narrative has constantly shifted in this series. After Game 1 was suspended, the
Yankees
had the advantage because
Justin Verlander
would only get one start. After Game 1 finished, the Yankees had the advantage. After Game 2, the Tigers had the edge as they were going home with a split. After Game 3, the Tigers had the series in the bag, because there was no way
A.J. Burnett
would pitch well. But he did. And now the Yankees have the advantage, as they head home with the momentum. Right? So goes the narrative.
This Game 5, like the entire series, is a complete toss up. Drawing conclusions based upon what we've seen in the first four games would be folly, because you can throw everything out the window. It's Game 5. Anything can happen. And it's
great
theater involving pretty opposite cities.
We've got a team that hadn't won a division since 1987 against a team that has won its division 12 times in the past 16 seasons, but it's also blue collar against white collar. It's East Coast against the Midwest. Wall Street against the auto industry.
And it all comes down to one game. Let's size it up.
Game 5:
Tigers at Yankees, 8:07 p.m. ET, Yankee Stadium, TBS
LINEUPS
PITCHING MATCHUPS
Nova vs. Tigers
: He completely shut the Tigers down in the continuation of Game 1 through six innings, but faltered after that. Still, he now has one postseason outing under his belt and got some confidence out of it. The big stage won't phase him one iota Thursday night. As far as the hitters, we have a very small sample from which to judge. Not one Tigers hitter has more than six plate appearances against Nova. Victor Martinez has reached base four of the six times he's faced Nova. The only other thing that stands out is Nova's faced 38 Tigers batters in his career and has not allowed a single extra-base hit.
Fister vs. Yankees:
He actually settled in for a short span in Game 1, but the final line looks ugly because he had a rough last inning and
Al Alburquerque
gave up a grand slam -- three runs of which were charged to Fister. I know some of the stat crowd would freak out to hear this, but it's possible Fister had some nerves last time out, too. He'd never pitched in the playoffs and he had to take the hill on the biggest stage of all. Now that he has one outing under his belt, it's possible he gets back into a groove. In a small sample, several Yankees hit Fister well, though. Derek Jeter is 5-for-13 (.385). Mark Teixeira is hitting .364 with a 1.273 OPS against Fister. Robinson Cano is 3-for-8 with two doubles. Overall, the Yankees are hitting .310 off Fister, but no player has faced him more than 13 times.
NOTES

The last time the Yankees won a deciding game (meaning a Game 5 in the ALDS or a Game 7 in the ALCS or World Series) was the Aaron Boone home run game. Seriously. In the 2003 ALCS, the Yankees won Game 7. Since then, they've either not needed to go the full series to beat someone, or lost a decisive game. They lost the 2004 ALCS to the Red Sox in seven. They lost the ALDS three games to two to the Angels in 2005. Otherwise they haven't played a series all the way to the final game.
This doesn't have anything to do with many of the current players, but it's still interesting: The only other time these two franchises met in the postseason, the Tigers beat the Yankees 3-1 in the 2006 ALDS.
I'll again point out that Teixeira has an abysmal playoff track record. A-Rod gets showered with boos, but Teixeira is hitting .203 with an embarrassing .314 slugging percentage in 30 career postseason games. And his only hit since Game 1 in this series was a dribbler down the third-base line that Wilson Betemit thought would go foul.
Brett Gardner is 5-for-13 with a double, three runs scored and five RBI in this series.
Alex Avila is 0-for-12 this series after a brilliant regular season.
The Yankees have had the same batting order all five games, but the Tigers have had a different lineup in each of the five games.
For more baseball news, rumors and analysis, follow @EyeOnBaseball on Twitter or subscribe to the RSS feed.