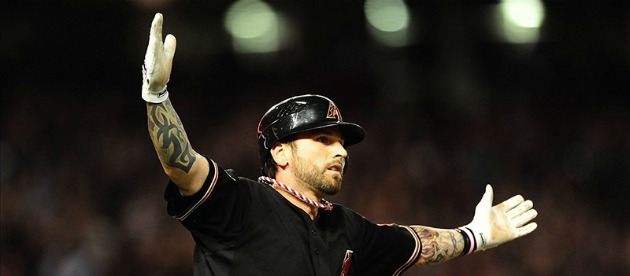 By C. Trent Rosecrans
Hero: In such a jam-packed game, it's easy to overlook something that happened in the first inning, but from the moment the ball left Ryan Roberts' bat with two outs in the first inning, the Brewers were playing catchup. It was Roberts' only hit of the night, but when you can drive in four runs with one hit -- especially in the first -- you've had a pretty good night.
Goat: Brewers starter Randy Wolf not only gave up Reynolds' grand slam in the first, he also gave up a homer to Chris Young right after Reynolds' blast. Wolf's offense kept him in the game, scoring runs in the second and third to make it 5-3, but then the Brewers left-hander gave up a two-out single to pinch-hitter Collin Cowgill in the third to return Arizona's lead to four. Wolf's final line: three innings, eight hits, seven earned runs, three walks, two strikeouts and two homers.
Turning point: In the first inning of Game 1, Arizona third base coach Matt Williams sent Willie Bloomquist on a single to the outfield and the Diamondback shortstop was thrown out at the plate, killing the Diamondbacks' momentum and their only real shot at Yovani Gallardo. On Wednesday, Williams threw up the stop sign for Bloomquist on a single to right by Miguel Montero. Two batters later, the conservative call paid off as Roberts blasted the grand slam.
It was over when … It seems odd for a scoring play for the losing team to occupy this spot, but when Corey Hart's drive in the sixth inning stayed in the park, it seemed like some air was let out of the Brewers' balloon. Hart's drive to left-center was corralled by Gerardo Parra, allowing Yuniesky Betancourt to score, making it 7-4. But a single run was a disappointment after Hart crushed Bryan Shaw's pitch. Jerry Hairston Jr. followed with a fielder's choice to end the inning with two on and Ryan Braun in the on-deck circle.
Next: Just like the other NLDS matchup, this one's going the distance, and Arizona's Cy Young candidate, Ian Kennedy, will get another shot at the Brewers and Gallardo. Gallardo was dominant in a 4-1 Game 1 victory in Milwaukee. Gallardo allowed just four hits and struck out nine Diamondback batters in the win, while Kennedy gave up four runs on eight hits.
For more baseball news, rumors and analysis, follow @eyeonbaseball on Twitter or subscribe to the RSS feed.