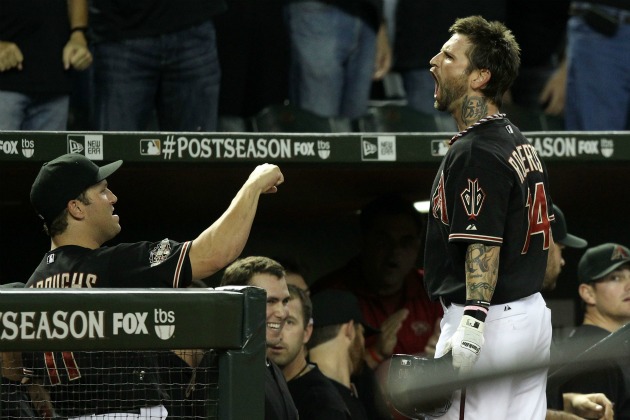 By C. Trent Rosecrans
It seemed like the perfect opportunity -- the Diamondbacks' Paul Goldschmidt up with the bases loaded once again. He couldn't come through -- but Ryan Roberts did.
For the fourth straight game at Chase Field, the Diamondbacks hit a grand slam, and for the second time in those four games it was Roberts, giving the Arizona a 4-1 lead in the first-inning. Chris Young followed with a solo homer to give Arizona a 5-1 lead after one.
That's a pretty good sign for the Diamondbacks, who were 83-8 this season when leading by two or more runs.
The Diamondbacks became just the fifth team in Major League history to hit two grand slams in one playoff series and the first since the 1977 Dodgers to do it in back-to-back games.
On Wednesday, Arizona's Willie Bloomquist singled to start the inning before Aaron Hill popped up, Justin Upton walked and Miguel Montero singled. However, unlike Game 1 when the Diamondbacks were aggressive in sending Bloomquist to the plate, third base coach Matt Williams held him up to leave the bases loaded with one out and Goldschmidt, the hero of Game 3, came to the plate.
Goldschmidt was starting at first in the place of Lyle Overbay despite hitting just .162/.279/.378 against lefties. But he was coming off a good game and manager Kirk Gibson put him in the lineup against Randy Wolf. It was the perfect setup to the perfect story, except he looked at a 1-2 pitch low and inside that home plate umpire Bruce Dreckman called for the third strike.
Wolf got no such help from Dreckman or anyone else when he tried to throw a 2-1 changeup past Reynolds, who hit it just to the fair side of the left-field foul pole for the Diamondbacks' fourth grand slam in as many home games. Roberts also hit the walk-off grand slam on the penultimate day of the season.
The Diamondbacks had six grand slams during the season, including one in each of the last two games of the season. But it's not just home runs when the Diamondbacks have the bases loaded, as a team Arizona hit .387/.421/.649 with bases loaded during the regular season.

Follow all the action live on CBSSports.com's GameTracker
For more baseball news, rumors and analysis, follow @eyeonbaseball on Twitter or subscribe to the RSS feed.