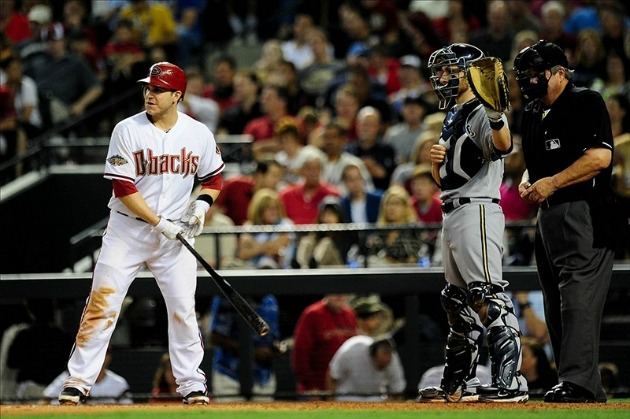 By C. Trent Rosecrans
Brewers manager Ron Roenicke doesn't like the intentional walk. He may like it even less after Tuesday.
Roenicke decided to walk Miguel Montero to load the bases in the fifth inning of Game 3 of the National League division series. It made sense at the time, there were runners on second and third and two outs. Montero had already driven in a pair of runs with a first-inning double and a third-inning single.
Montero was locked in and on deck was Paul Goldschmidt, a rookie that had singled in the first and flew out in the third. Roenicke's pitcher, Shaun Marcum, was much more successful against right-handed batters this season, holding right-handers to just a .195/.243/.323 line. It made total sense.
"Montero scares me," Roenicke said in the postgame news conference. "I thought it was the right move. I still do. But do I like doing it? No."
Marcum? "Not my call," he told reporters.
When Paul Goldschmidt swings, there's little doubt as to what he's trying to do.
The Diamondbacks rookie first baseman has succeeded throughout most of his pro career. In the short-season Pioneer League after being drafted, Goldschmidt hit 18 homers in 74 games, last year in the hitter-friendly California League he hit 35 in 138 games and then this year he had 30 in 103 games at Double-A before being called up to the big leagues. In his second game, he took Tim Lincecum deep for his first big-league homer. He added another homer off of Cliff Lee and got Lincecum again for good measure. In all, he hit eight homers in 156 at-bats during the regular season. After sitting in Game 1 of the NLDS, Goldschmidt was in the lineup in Game 2 and repaid his manager by taking Zack Greinke deep.
Still, Montero was the man Roenicke feared. Montero was held hitless in the first two games, but responded in Game 3 with two hits early. Montero hit .282/.351/.469 this season and hit 17 of his 18 homers off of right-handers.
So Roenicke issued the free pass to Montero, loading the bases. Kirk Gibson said he regretted pitching to Prince Fielder earlier in the series, but Gibson likes the intentional walk no more than Roenicke. The Brewers and the Diamondbacks tied for the least amount of intentional passes on the season, both only walking 16 batters on purpose in the regular season.
That's why actually pulling the trigger on the four wide pitches has to hurt -- and having the gun backfire hurts even more.
Marcum's 1-2 fastball stayed over the heart of the plate and Goldschmidt took it the other way for the grand slam.
"He threw a fastball; I'm sure he missed his spot," Goldschmidt told TBS after the game. "I don't now if he was trying to go in or out, but it ended up pretty much down the middle. And I was lucky I was able to get enough of it and hit a homer."
That was more or less the game, decided by a rookie -- and the decision of the manager to face the rookie.
"That's the dilemma a manager has, and you guys that have been with me know that I don't like walking people," Roenicke said after the game. "And there we go again."
For more baseball news, rumors and analysis, follow @eyeonbaseball on Twitter or subscribe to the RSS feed.