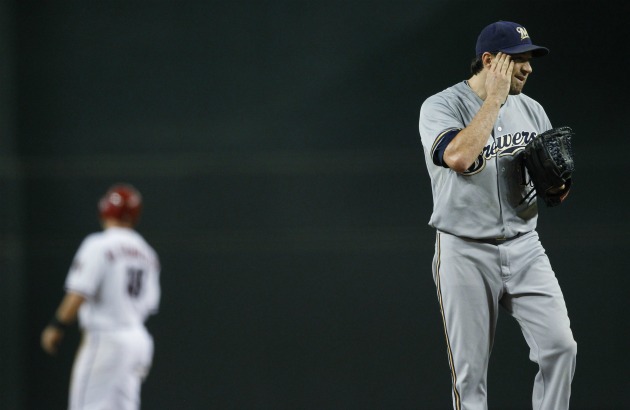 By C. Trent Rosecrans
Sean Marcum tossed his glove in the air as soon as Paul Goldschmidt made contact for his grand slam in the fifth inning, but possibly as much as the 1-2 fastball he served up to the Diamondbacks rookie, Marcum was upset at himself for being in that situation.
The right-hander has a reputation as one of the best fielding pitchers in the game, and had he been able to field Justin Upton's one-out comebacker cleanly, Goldschmidt would have never had the chance to give Arizona a 7-1 lead in the fifth inning.
With runners on first and second and one out, Marcum got Upton to ground the ball back to him, but the ball bounced off Marcum's glove and between his legs. He managed to recover in time to get one out, but he missed his chance at an inning-ending double play.
Ron Roenicke then elected to intentionally walk Miguel Montero, who already had two hits on the night, to get to the rookie first baseman. Marcum made a mistake to Goldschmidt -- but it never would have happened had he made the previous play. Instead of Marcum heading to the dugout trying to keep his team close, he was lifted from the game as the Diamondbacks added another run in the inning, and probably another game to the series.
For more baseball news, rumors and analysis, follow @eyeonbaseball on Twitter or subscribe to the RSS feed.