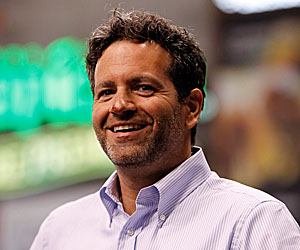 By Matt Snyder
Along with the NL wild card
Cardinals
, the Tampa Bay
Rays
were the Cinderella story of September with a dramatic run netting them the AL wild card. Tuesday, the story ended with an ALDS loss to the
Rangers
, three games to one. Still, this was a season for the Rays to be proud of, at least on the field. They fought through significant offseason losses and an 0-6 start to make the playoffs.
Off the field is another matter, though. Principle owner Stuart Sternberg once again reminded everyone how dire the Rays' financial situation is after the loss.
"I am frustrated this year," Sternberg said (
ESPN.com
). "We've replicated last year [on the field] and our attendance numbers were down 15 percent and our ratings were down. The rubber has got to meet the road at some point here. When you go through the season, you control your own destiny, if you win out. We're getting to the point where we don't control our own destiny. This is untenable as a model going forward."
Sternberg noted that when he took over, he was told that if they won, everything would fall into place. Well, the Rays have been to the playoffs three of the past four seasons, including the World Series once. And the ratings and attendance just aren't getting to a point that the Rays can make money and pump more money into the on-field product.
"I don't have all the answers to it, but we've answered any questions stadium related, market related, economy related, area related, sport related," Sternberg said (
ESPN.com
). "Whatever you want to say, there are 29 other teams passing us like we're going in reverse right now. Except on the field. And at some point that changes. … To a team, winning solves ills. And we are four years into winning and we're no better off right now."
Now, this is about the time where someone chimes in that the Rays haven't won the World Series. True, but 29 teams fail to win the World Series every single season and the overwhelming majority of those teams make money. Even bad teams make money in some markets. The Rays are one of the most well-run organizations in the majors and they still aren't getting enough revenue.
Even if one of the main problems is Tropicana Field and the location, that doesn't explain their TV ratings issues. While Sternberg didn't explicitly say it, moving to a new city at some point has to be on his mind -- even if it's just in the back of his mind right now.
For more baseball news, rumors and analysis, follow @EyeOnBaseball on Twitter or subscribe to the RSS feed.