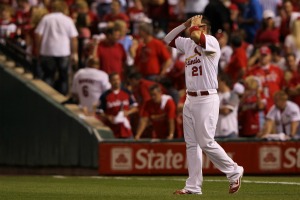 By C. Trent Rosecrans
If there was a good sign for the Cardinals in Tuesday's 3-2 loss to the Phillies in Game 3 of the National League division series, it came in the eighth inning when Matt Holliday sent a Brad Lidge slider into left field for a single.
It was just Holliday's second at-bat of the postseason, striking out as a pinch hitter in Game 1. Holliday has been dealing with a strained tendon in his right hand and unable to play in the field. However, before Tuesday's game, manager Tony La Russa said Holliday had improved and also said his outfielder had gotten a cortisone shot, something he had been avoiding up until this point.
The Cardinals could certainly use Holliday's bat in the lineup, as Lance Berkman is just 2 for 12 so far this postseason batting in Holliday's fourth spot. With Albert Pujols doubling three times ahead of Berkman, he had plenty of opportunities to drive in a run, but failed each time, leaving a total of five men on base. The Cardinals left 14 on base as a team. Not including Pujols, who had four hits, the top third of the Cardinals lineup went 3 for 27 against the Phillies on Tuesday.
Philadelphia-St. Louis NLDS
For the first time in the series, Berkman moved back to right field with Allen Craig starting in left. Craig started the first two games in right with Berkman in left. With Holliday out of the lineup, Craig has hit second and gone just 1 for 10 so far.
The question may be whether Holliday can play the field for an entire game. In the last game he started, on Sept. 27 in Houston, Holliday left the game in the third inning not because of his inability to swing the bat, but his inability to grip the ball on throws.
There's also the question of whether he can handle an inside fastball. In Tuesday's game, he only saw two sliders from Lidge, not anything hard. The Cardinals are a better team with Holliday in the game, but we'll see if Tuesday was the start of a great comeback story or just a cameo.
For more baseball news, rumors and analysis, follow @eyeonbaseball on Twitter or subscribe to the RSS feed.